Hello lovelies!
Yesterday, we finally had another barbecue- even though the weather wasn't really nice. I wanted to make something special, something that you won't make every day. So, these oriental turkey skewers with dates and bacon are the result! They are spicy, sweet and savory. In contrast to these flavors, I picked a lemony tabbouleh with fresh herbs to go with my skewers and it was just amazing. So, let's get your barbecues smoking and enjoy!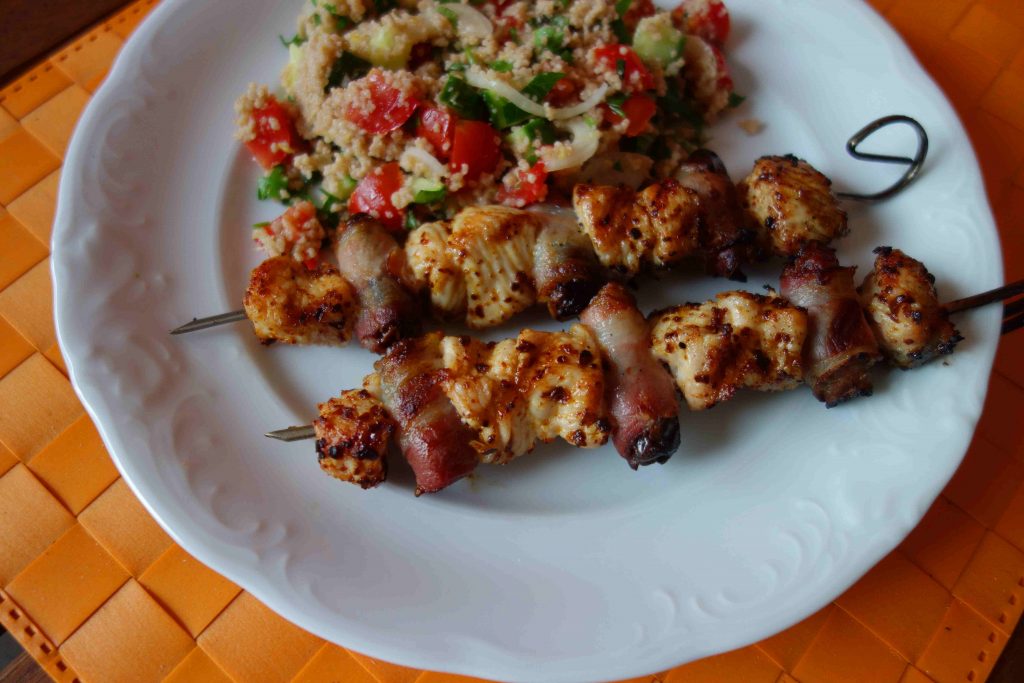 For 6 skewers you need:
2 turkey breasts
18 dates
9 slices bacon
salt, harissa
oil
Preparation:
First you cut the turkey breasts into bite-sized pieces. Then you pour some oil, salt and harissa in a bowl and mix the marinade with the turkey chunks. Now you can let the meat sit in the fridge for a few hours or use it right away. Cut the bacon slices in half and roll one date into each piece. Next, you skewer the meat and dates alternately on six metal skewers. Those have to be barbecued at approximately 200°C for around ten minutes. Don't forget to turn them a few times!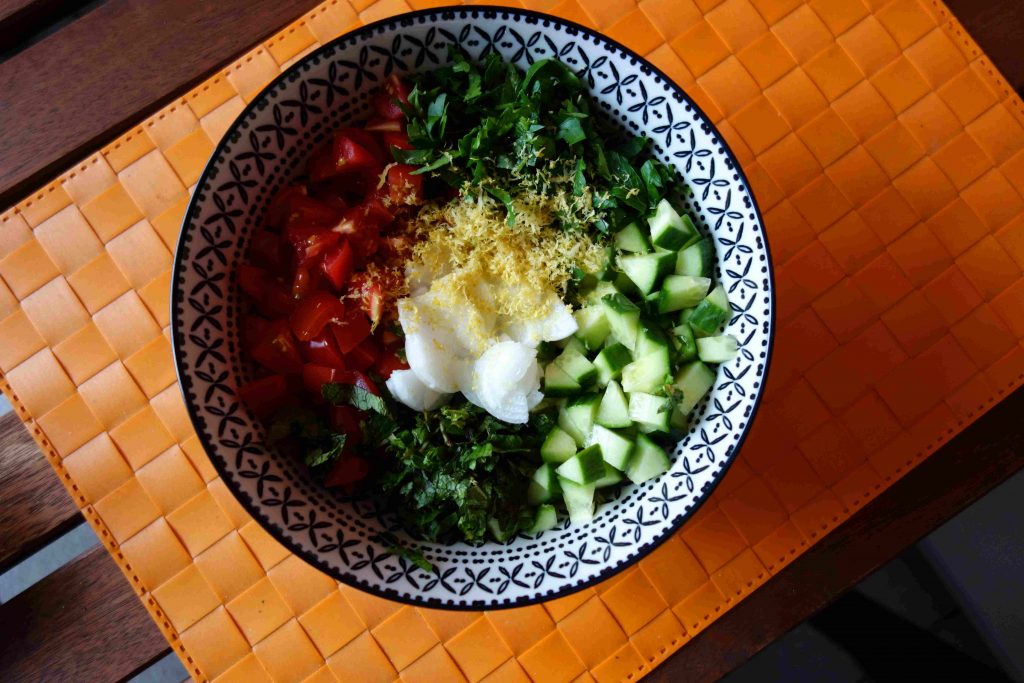 For the tabbouleh you need:
100g couscous, bulgur or quinoa
10 datterini or cherry tomatoes
1/2 cucumber
1 small onion or 2-3 shalotts
1 lemon
fresh parsley
fresh mint
salt, pepper
olive oil
Preparation:
First you prepare your couscous, bulgur, quinoa or anything else you like. Then you wash the tomatoes and cucumber and cut them up small. Next you peel the onion, cut it in half and finely slice it. I like to salt the onions, because I feel that this makes them easier to digest. Now you can chop the fresh parsley and mint. I recommend using more parsley than mint, but that's totally up to you. Then you wash the lemon under hot water and add its zest to the tabbouleh. Next, you squeeze the lemon and use the juice for your dressing. Add in some olive oil, salt and pepper and you are ready to go. Now bring everything together and enjoy. The tabbouleh will last for two to three days in the fridge.
Have fun!
XOXO, Stef