Hello lovelies!
Yesterday evening I made a big pot full of this delicious carrot-lentil-soup. It was quick to make and we were delighted by its taste. Furthermore, this soup is really filling and has nice oriental spices. At the moment, there isn't a lot of stuff going on here. I'm still totally exhausted and try to handle life day by day. Unfortunately, I'm sick again. I hope that this is going to be better soon, but at least sun is shining and that cheers me up a bit. Okay, enough about my personal issues- let's get to the recipe!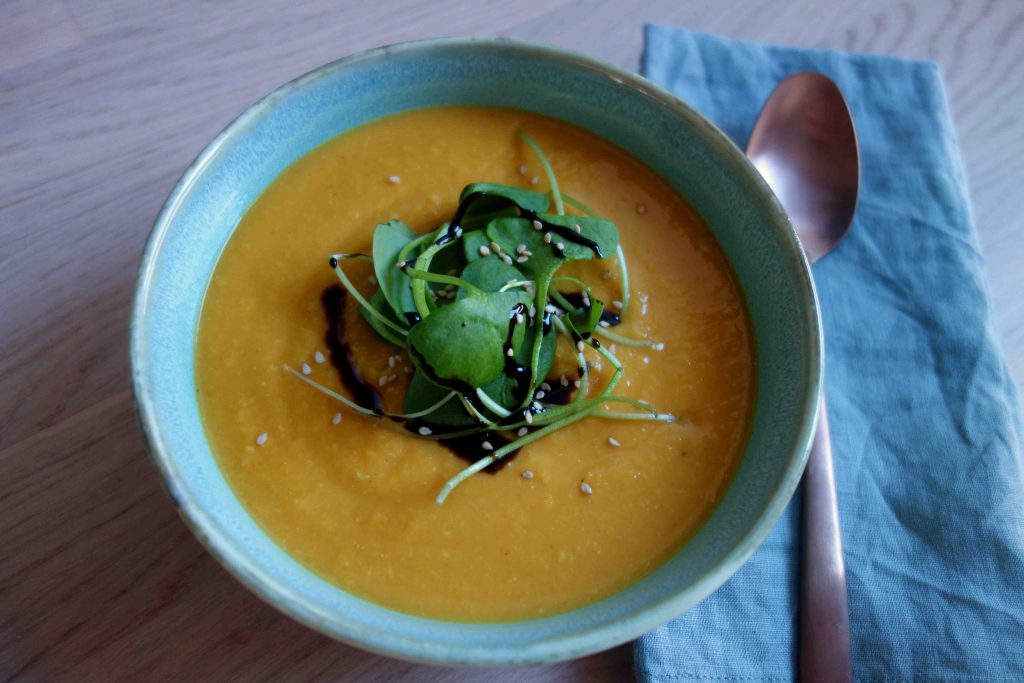 For 3 to 4 portions of the carrot-lentil-soup you need:
1kg carrots
200g red lentils
1l veggie stock
2 cloves garlic
salt, curry
coconut oil
Preparation:
First, you peel the carrots and garlic and finely slice them. If you are in a hurry, just use a mandoline to slice them. Now add some coconut oil to a big pot and fry the garlic and one teaspoon of each ginger and turmeric paste in it. You can also grate some fresh ginger and turmeric or use both as dry spices. Next, you add one to two tablespoons of your favorite curry and the sliced carrots to your pot. Fry everything until fragrant and then pour in the veggie stock. Now let the carrots cook for about 10 minutes.
Then you add the lentils to the pot as well and let everything boil for another 10 minutes. Now you can season the soup to taste with some salt, thin it down if necessary and blend it into a creamy soup. If you want, you could also add a can of coconut milk or just some water and coconut butter. I served the soup with some purslane, balsamic and sesame as a topping and a piece of toasted bread to go along with.
Have fun!
XOXO, Stef