Hello lovelies!
We started to work in the garden early this year, because our allotment garden is most beautiful in spring. We have lots of early flowering plants and bushes and the whole garden just looks gorgeous at the moment. Furthermore, it feels so good to spend time outside and to work in the sunshine. On my terrace we can also find some produce and I already started to propagate some summer vegetables 🙂 Have fun on the first garden tour of 2019!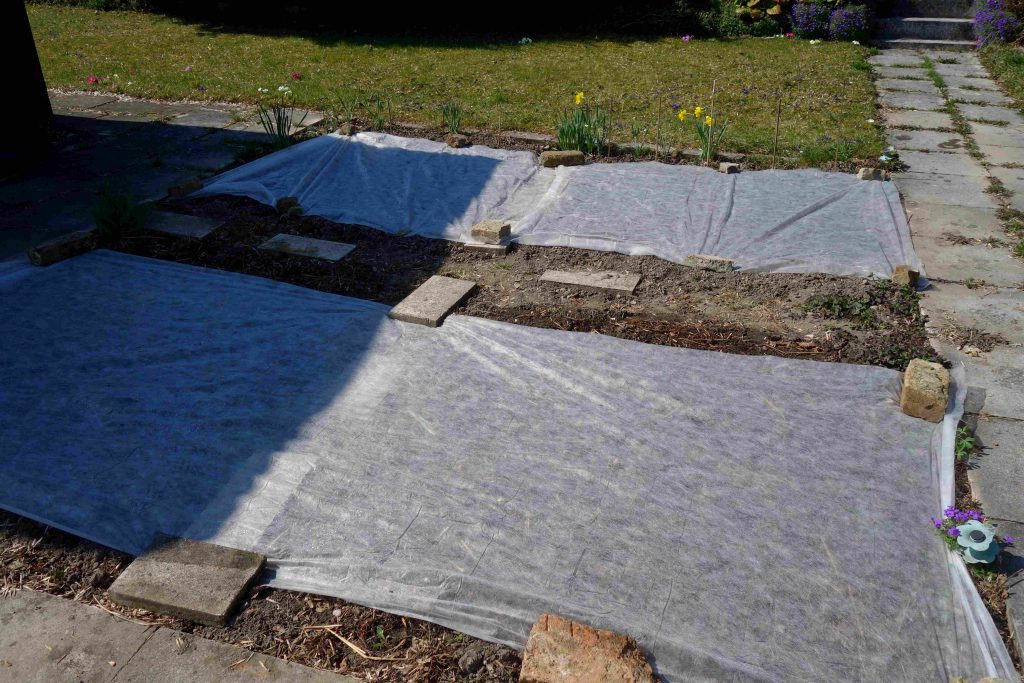 Let's start with my biggest garden bed. Last weekend, we spread ripe compost on the two front garden beds and sowed spinach, lamb's lettuce and radishes. In the back beds we sowed different onions, carrots and broad beans. At the end, we watered everything generously and covered it with fleece. That's an easy way to keep the moisture in the ground and the seeds germinate easier.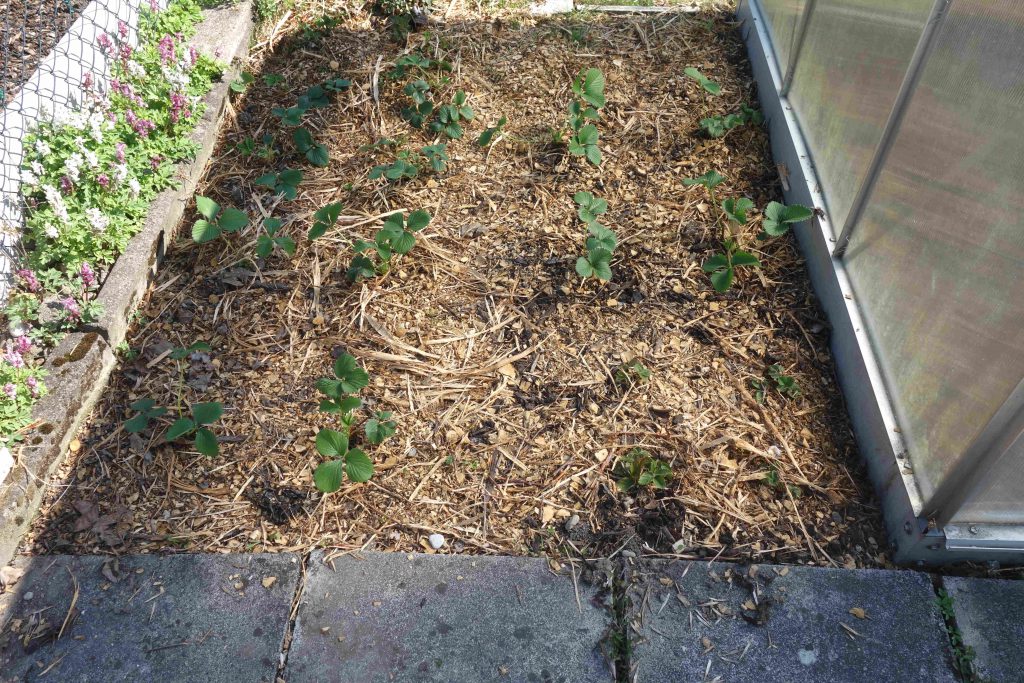 In the garden bed next to my greenhouse, three different kinds of strawberries moved in last weekend. They are meant to ripen at different times, so I can harvest strawberries over a longer period. As you can see, I mulched them with chaffed branches from our apple trees. We want to use this mulch in our whole garden this year and I'm excited to see how this will influence the soil quality.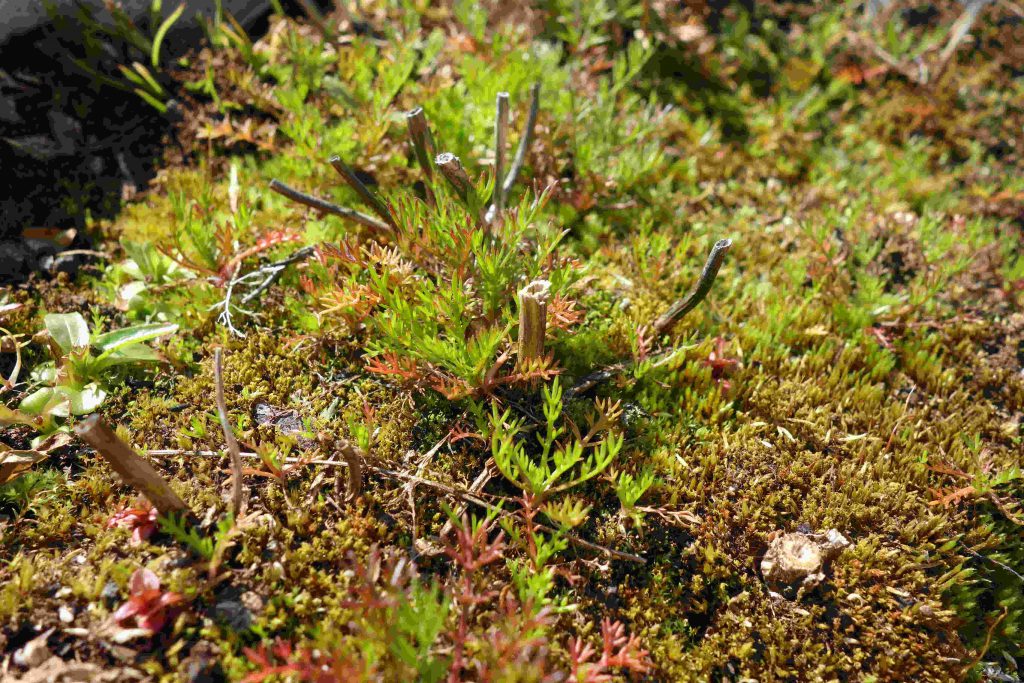 The camomile was allowed to seed last year and now the first plants are growing in the middle of all the moss. We are really surprised how well this worked out and I'm already looking forward to having more edible flowers in our garden this year.

The berry bushes are fine, too. On the left side you can see the flower of my new gooseberry, which will move in our garden this weekend. In the middle you can see one of two black currants, I planted last year. The have both survived winter and are already sprouting. On the right side you can see one of many red currant bushes. Those have survived winter as well and all the berry bushes have been mulched in early spring.

Of course, I have projects this year. I started to build a hill bed behind my raised bed. It should be finished by the end of May and host zucchinis and physalis. I'm quite curious how this bed will do. In the greenhouse you can see my latest acquisition. I decided to finally invest in a solid climbing trellis for my cucumbers.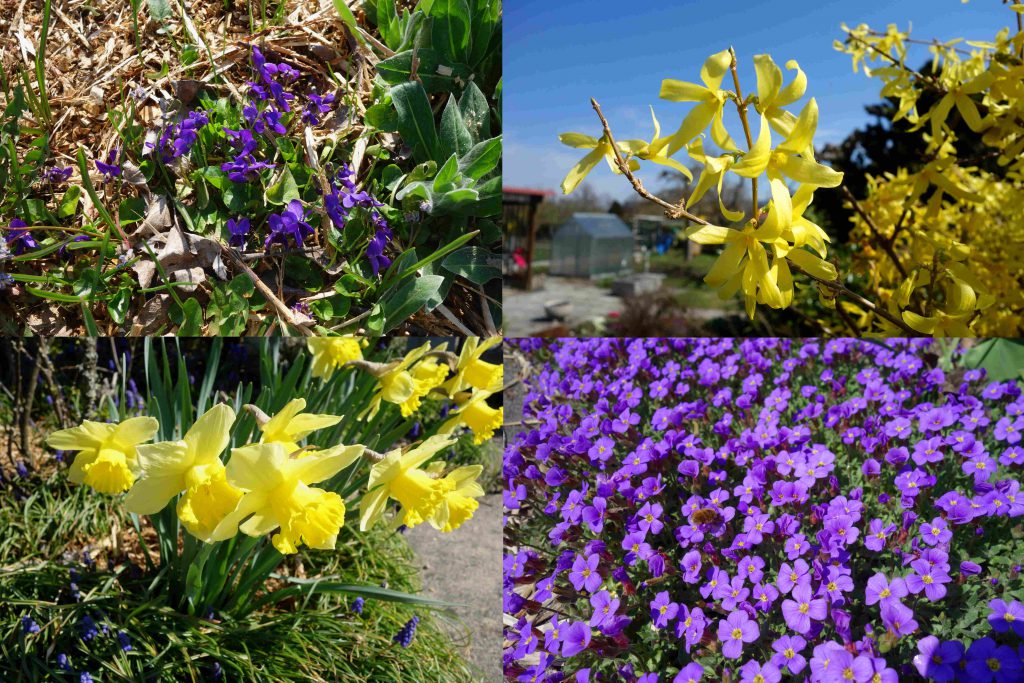 Apart from that our garden captivates due to its bloom at the moment- especially when in bright sunshine. The violets, forsythia, daffodils and lilacbushes are in full bloom and it is humming and buzzing with bees and other small insects all over the garden.

We also have lots of primroses and spring squills in our garden. They have even spread on the meadow, so we try to stay away from mowing as long as possible. The first tulips are also popping up, but they haven't started to flower yet.

In the raised garden bed on my terrace, the remaining kale is waiting to be finally harvested. I think, I'm going to do that during the next few days. My arugula has also survived the cold winter months and already started to sprout- very convenient.

Here you can see my seedlings. On the left, there are different lettuces, various kinds of cabbage and radishes. In the small greenhouse physalis, eggplants, bell peppers and chilis are germinating. This weekend I'm going to sow tomatoes, cucumbers, zucchini, squash and water melons. Oh, I'm really looking forward to summer!

At the end I have some more flowers for you. These beauties are blooming next to my terrace. Hyacinths are my favorites among the early flowering, because their scent is so intensive. I hope you liked this little tour around my garden.
See you next time!
XOXO, Stef