Hello lovelies!
As you know, I always try to prevent food waste. So lately, I went to an organic supermarket where they have a box for saving food. I found two little paper bags in it- one with ginger and one with turmeric- and I just couldn't resist to buy them. I'm sure you all know the following problem: You need a small piece of ginger for one recipe and the rest of the ginger sits in the fridge and goes bad. To prevent this, I like to make paste from ginger and turmeric. These pastes last up a few months in the fridge when you work as clean as possible. So give it a try and don't throw out your leftovers any more 😉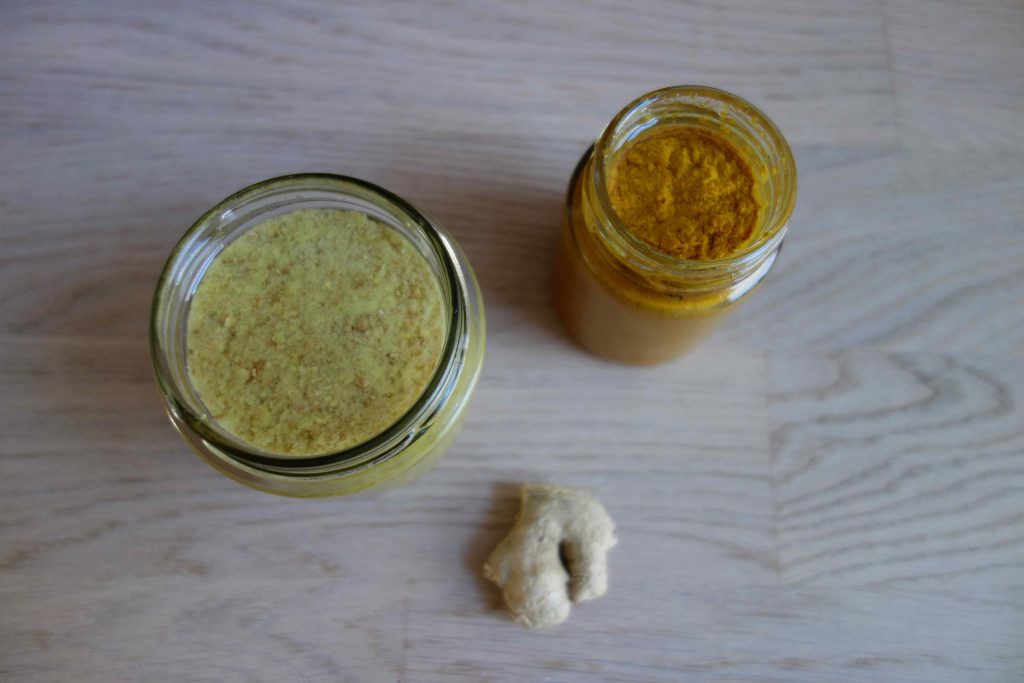 For one glass of ginger paste you need:
100g fresh organic ginger
10g salt
5-6 tbsp. neutral oil
For one small glass of turmeric paste you need:
50g fresh organic turmeric
5g salt
3 tbsp neutral oil
Preparation:
The preparation of both pastes is basically the same and pretty easy. First you chop the ginger or turmeric and add it to your blender as well as the salt and neutral oil. When working with turmeric, I would definitely recommend wearing gloves, because turmeric stains like crazy. Now blend everything together until a thick paste forms.
Then sterilize two screw top jars with boiling water and fill them with the pastes. Try not to touch the rim of the jars to keep them as clean as possible. If you messed it up, clean the rim with a fresh kitchen towel. Now cover the pastes with neutral oil and store them in the fridge. When you need some paste, take a clean teaspoon, get some of the paste on it and cover the rest with some oil again.
Have fun!
XOXO, Stef