Hello lovelies!
The sun is shining and I finally have the time and motivation to write again. So, it's a really good day. Some time ago, I made an absolutely delicious vegan potato and kohlrabi casserole. Your feedback on Instagram was great, so I decided to share the recipe with you today. I'm sure you will like it. It is totally easy to make and it tastes so good. Furthermore, it doesn't take that long to make and you can make a big amount, because it is easy to rehash- perfect for meal prep though.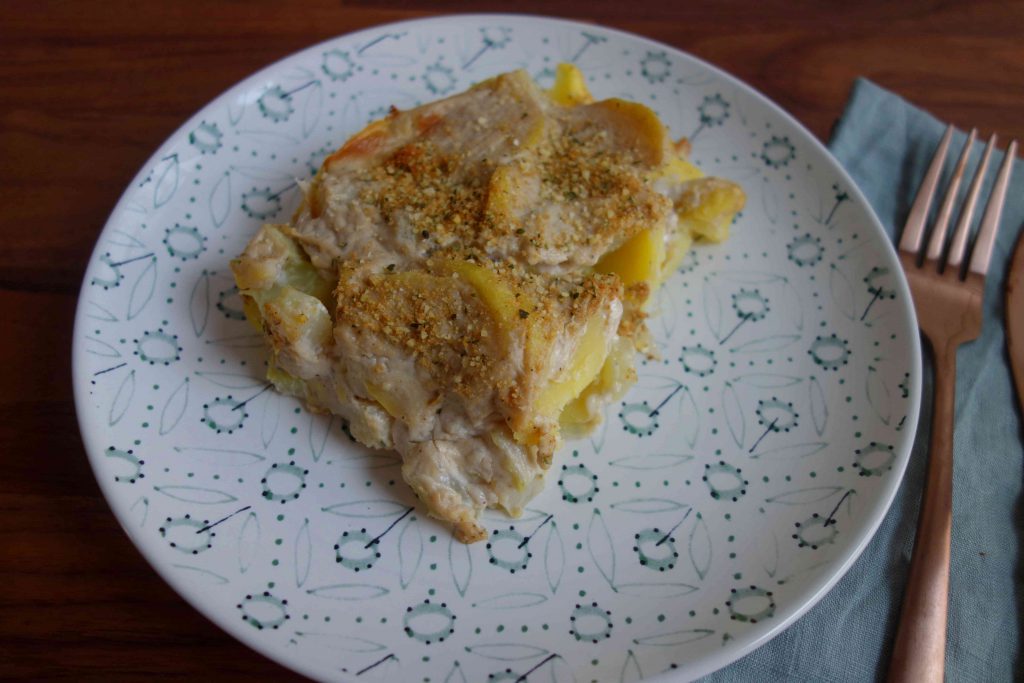 For 4 portions you need:
500g small potatoes
2 medium-sized kohlrabies
50g cashews
250ml water
3 tbsp. nutritional yeast
2 tsp. sauce thickener
salt, pepper, nutmeg
vegan Parmesan
Preparation:
First, preheat your oven to 200°C (390°F). Then you boil the potatoes for about 15 minutes. Next, you refresh, peel and cut them into small pieces. In the meantime you can peel and dice your kohlrabies. Then you boil them for six minutes in salted water. When the kohlrabies are tender, drain them and save the cooking water for later. Now you add the vegetables to an oiled ovenproof dish.
Next you add the cashews, nutritional yeast and water to your stand mixer and blend until you get a creamy sauce. Pour it into a pot and add about 200ml of the cooking water you saved. Now season to taste with salt, pepper and some freshly ground nutmeg. Bring the sauce to a boil and then remove from the heat. Stir in two teaspoons of sauce thickener and bring back to a boil. The sauce should be nice and thick now. Combine the veggies with about a third of the sauce and spread the rest of it on top of your casserole.
Now put the casserole in the oven and bake it for about 20 minutes. Then you add vegan Parmesan to taste on top of it and bake it for another five to ten minutes until golden brown. You can serve your potato and kohlrabi casserole with a mixed green salad and some fresh sprouts.
Have fun!
XOXO, Stef