Hello lovelies!
The season for wild garlic already seems to come to an end around here. Well, at least the wild garlic in my grandparents' garden is about starting to bloom. This is my primary and nearly inexhaustible source of wild garlic 😉 I always preserve lots of wild garlic to have it available all year round, but of course I also love to use fresh wild garlic for cooking. This time I made some delicious vegan wild garlic ravioli and I have to admit that pine nuts and mushrooms go really well with it. If you want to preserve your wild garlic as well, make sure to check out my recipes for wild garlic pesto and the more neutral wild garlic paste. Okay, so let's get cooking!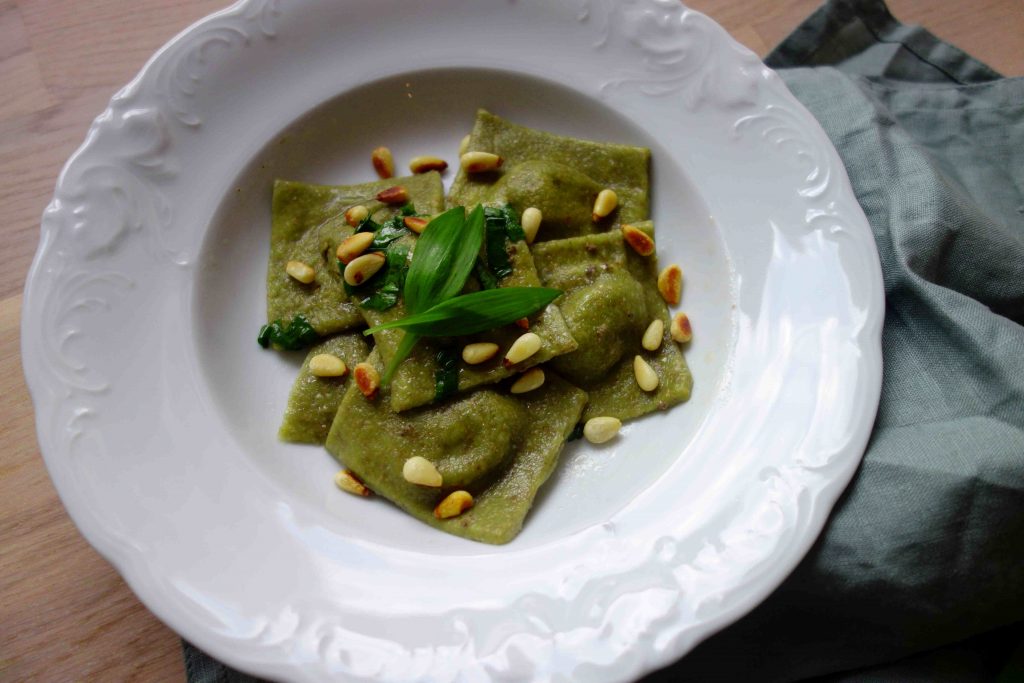 For 4 portions you need:
Pasta dough

40g wild garlic
100g+a few tablespoons water
400g spelt semolina
Filling
20g pine nuts
10g dried porcino mushrooms
100g button mushrooms
1 tbsp. water
smoked salt, pepper
Sauce
vegan butter or oil
20g wild garlic
100g pine nuts
smoked salt
Preparation:
First you prepare the pasta dough. Therefore, put the wild garlic and the water in a blender and blend until a homogeneous mass forms. Then you place the semolina in a big bowl and pour in the wild garlic mixture. Work with a fork to form a crumbly mixture and add water by tablespoons. As soon as the dough start to take shape, pour it onto the work surface and knead it for a few minutes. Then cover the pasta dough with a bowl and let it rest for 30 minutes.
In the meantime you can prepare the filling. Roast the pine nuts first. You can also roast all the pine nuts at once and just take away the 20g for the filling. Next, pour them in a blender with the dried porcino mushrooms. Then clean the button mushrooms, tear them into pieces and put them in the blender as well. Now blend the filling for a few seconds, pour in a tablespoon of water and the seasoning and continue blending until a homogeneous mass forms.
Now we begin to form our wild garlic ravioli. Take a third of the dough and divide it into 2 pieces. Then start to roll out the first piece using a pasta machine. I always start with thickness 1, fold the dough and roll it out again. Then I continue with rolling it out once on 2, 3 and 4. Next, I lay the rolled out piece of pasta on the floured work surface and put little dots of filling on it. Then I roll out the second piece of dough and lay it on top of it. Press on the edges and cut out your ravioli. After that, dust the bottom with some more flour and put them onto a wooden board to dry. Continue like that until everything is used up. I cut the leftovers into ribbon noodles and hang them on a wooden spoon to dry.
When all the pasta is done, cut up the remaining wild garlic and heat some vegan butter or high-quality oil in a big pan. As soon as the butter has melted or the oil is warm, put the wild garlic in the pan. Then you bring a big pot of water to a boil, add in a lot of salt and cook the wild garlic ravioli for 3 to 5 minutes. After that, you drain them and put them directly into the pan with the wild garlic butter. Give it a good stir and serve the pasta sprinkled with roasted pine nuts and smoked salt.
Have fun!
XOXO, Stef