Hello lovelies!
This vegetable stew alone is nothing special, but the pesto makes all the difference. My mum makes lots of wild garlic pesto each year, because there is a lot of wild garlic in my grandparents' garden. It's simply delicious and such a good addition to so many dishes. Wild garlic is a bulbous plant like garlic- but fortunately it is not that odorous 😉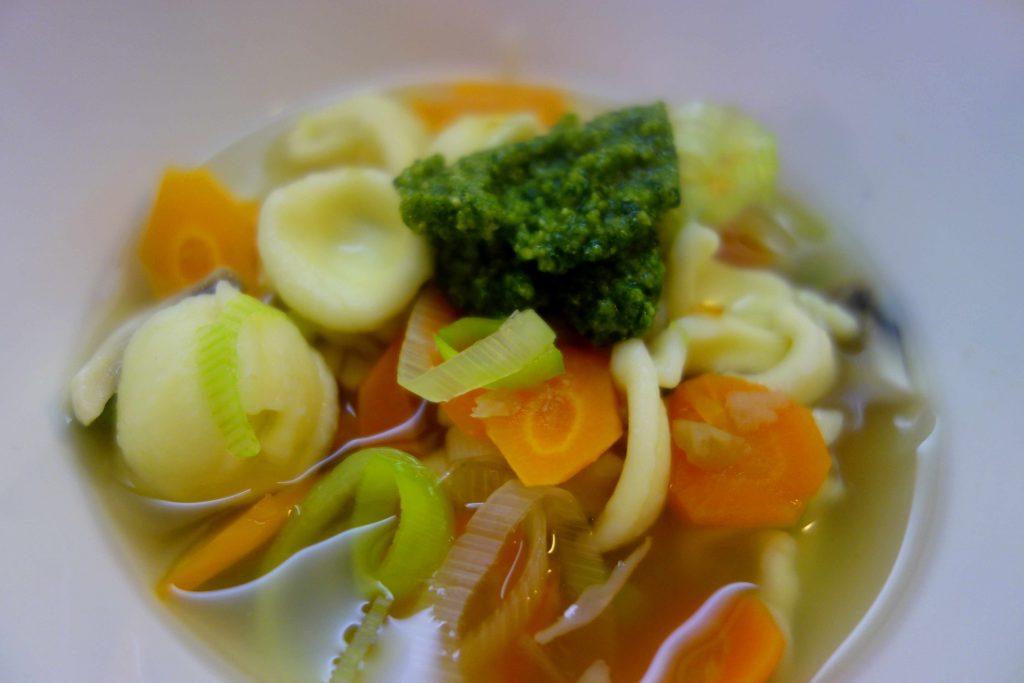 For the pesto you need:
150g wild garlic
60g pine nuts
60g Parmesan or Pecorino
olive oil
salt
Preparation:
First, you have to wash and dry the wild garlic. Then you blend it with the pine nuts, pecorino and salt. Vegans can substitute the cheese by adding more pine nuts, salt and a bit of nutritional yeast. Then you pour in the olive oil by tablespoons and keep blending until a creamy paste forms. Fill a sterile glass with the paste and pour some olive oil on top of it before you close the glass. The wild garlic pesto stores up to 2 years in the fridge.
You can use the pesto for a lot of stuff: from the classical pasta with pesto, to puff pastry rolls, to a marinade for meat for the next barbecue or to this delicious vegetable stew.
For the stew you need:

Preparation:
First, you cook a big pot of veggie stock. Let it simmer, while you prepare the rest of the ingredients. Cut the leek lengthwise and wash it. Then you cut away the roots and slice the white part of the leek. Next, you peel the carrots and finely slice them. Pour the vegetables and the orecchiette into the hot soup and let them cook for approximately 10 minutes until the pasta is done.
Nicely arrange the stew in little bowls and put a heaped teaspoon of pesto in the middle. Stir it into the soup right before eating and put the glass of pesto on the table for those who can never have enough pesto- like me 😉
Have fun!
XOXO, Stef