Hello lovelies!
It's a long time that I managed to cook a risotto, but lately I made a really gorgeous mushroom risotto. Therefore, I used dried porcino mushrooms and some button mushrooms. I just skipped the white whine and refined it with some great goat cheese. I think that pan-fried green asparagus would perfectly fit this dish- just in case you want to add some greens. Actually, I don't do risottos often, because I always think that it takes too much time. This is wrong. As soon as I stand by the stove, stirring in a pot of fragrant risotto, time starts to rush by 🙂 And the cooking time isn't as long as you might think. It's only 20 minutes!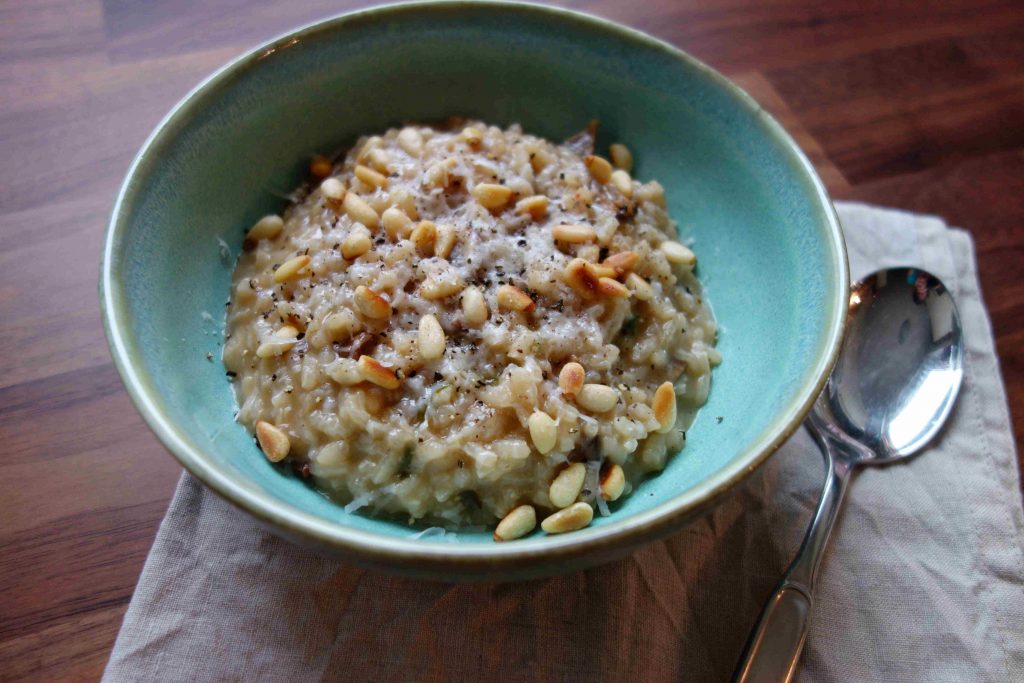 For 2-3 portions you need:

1 onion
2 small cloves of garlic
1 piece of butter
2 tbsp. olive oil
200g risotto rice
750ml vegetable stock
20g dried porcino mushrooms
100g button mushrooms
50g goat cheese
fresh parsley
salt, pepper
roasted pine nuts
Preparation:
First, you peel the onion and the cloves of garlic and finely dice them. Then you pour two tablespoons of olive oil and a piece of butter in a pot and heat them. Put in the onion and garlic dices and fry them for a few minutes until they become translucent. Then you add the risotto rice and stir until it is fully covered in fat. Next, you pour in enough veggie stock to cover the rice.
When the rice has soaked up the liquid, you cover it with veggie stock again and add the dried porcino mushrooms. Go on with letting the liquid be soaked up and covering the rice with more vegetable stock until it is all used up. With the last bit of stock, you add in the sliced button mushrooms. When your risotto is finished, stir in the main part of the goat cheese, some fresh chopped parsley and season to taste with salt. Serve the mushroom risotto in small bowls and sprinkle with the rest of the goat cheese, some freshly ground pepper and the roasted pine nuts.
Have fun!
XOXO, Stef