Hello lovelies!
Do you all know what a Rösti is? It's a Swiss potato dish- more or less comparable to hash browns. As potatoes need quite a while to cook through, I changed up the game by using carrots for my Rösti. This makes the dish quite quick and a perfect weekday dinner. It tastes as good as a classic Rösti, but it also gives you time to enjoy the great weather we're having lately. You can add a dip made from yogurt and herbs or a salad or both. I'm sure you'll love it!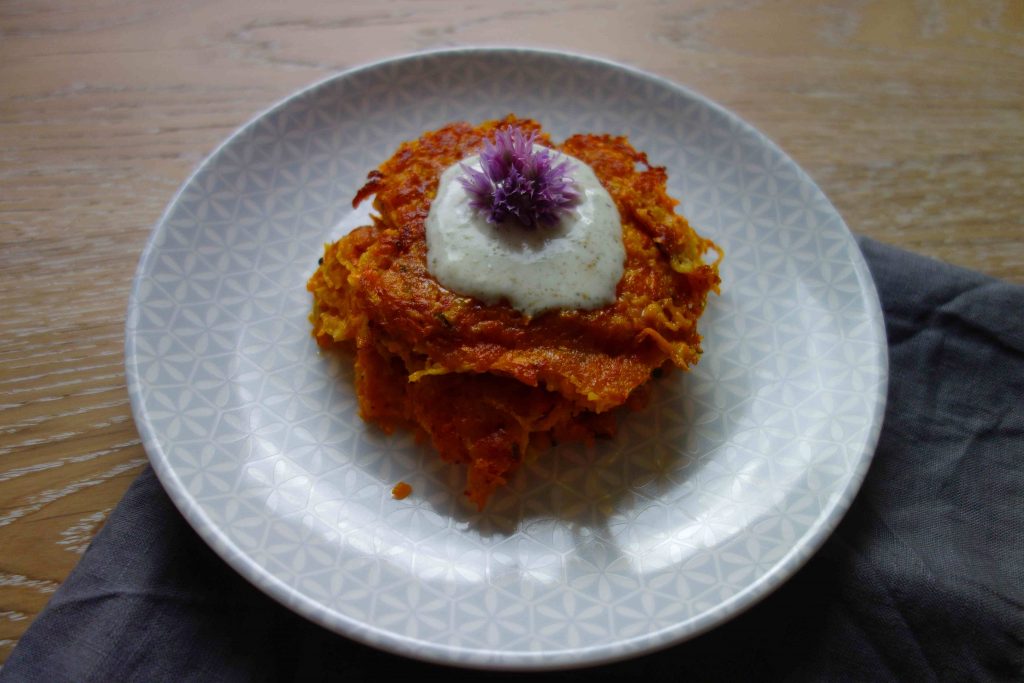 For 2 portions you need:
600g carrots
3 potatoes
2 tbsp. flour
some chives
salt, nutmeg
oil for frying
Preparation:
First, you wash and peel the carrots and potatoes. Next you grate the two kinds of vegetables into intermediate sized pieces. I used the grater of my Kitchenaid for that, because it is quick, easy and gives you very consistent results. Otherwise you can use any kind of grater or mandolin that you have and grate your veggies by hand.
Then you take a bowl and pour in the grated vegetables and two tablespoons of flour. Next you chop the chives and add them to the bowl as well. Season to taste with a generous amount of salt and some freshly ground nutmeg. Add some oil to a pan and bake one Rösti to make sure your mass has the right texture. If it breaks apart, add some more flower to get a better bond.
As soon as your mass has the right texture, bake your Rösti on medium-high heat on both sides until golden brown. Put the ones that are already done in the oven to keep them warm until you have finished all of your veggie mass. I ate my Carrot Rösti with some yogurt to which I added herbs and salt and my boyfriend enjoyed them without any additions. Just give this dish a go and find out how you like it best! By the way, a mixed greens salad would fit here, too 😉
Have fun!
XOXO, Stef