Hello lovelies!
Last week I was so bored of the classic sides like potatoes, pasta and rice. Then I thought of a dish, my mom used to make- cooked wheat. Unfortunately, this wasn't zero waste at all, because she always bought boil-in-bag wheat, so I had to change it up a bit. As you might have noticed, I prefer spelt over wheat. So, I bought some spelt grains at a mill near by and I got everything without plastic at least. This always makes me happy 😉 Now, check out the recipe!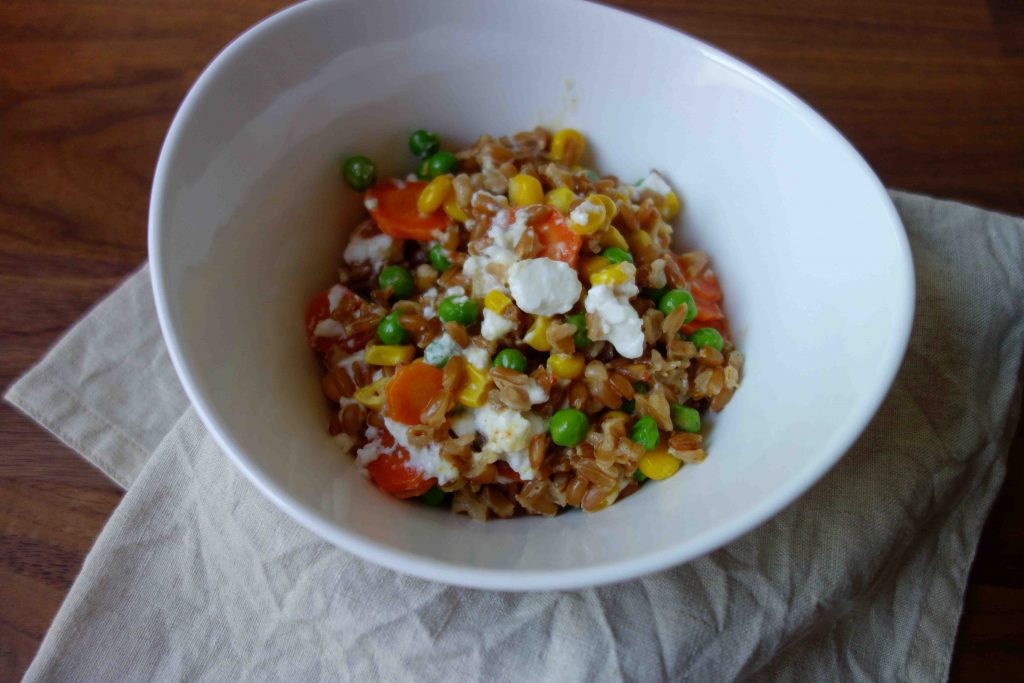 For 2 portions you need:
200g spelt
400g water
100g peas
100g sweetcorn
200g carrots
100g Feta
some cream
salt, pepper, herbs, hot paprika
Preparation:
First you wash the spelt and put it in a pot with the water. Let it boil on high heat for 5 minutes. Then reduce the temperature and let it soak for 35 to 40 minutes. In the meantime you can prepare the rest of the ingredients. Therefor, peel and slice the carrots. Next, you crumble the Feta in a bowl and put it back in the fridge.
When the spelt only needs 10 more minutes of cooking, start frying the veggies with a bit of oil in a big pan. Then you pour in the spelt and fry it with the vegetables until they are al dente. Add some cream to the pan and season to taste with salt, pepper, herbs and hot paprika. At the end, you spread the Feta on top of it and cover the pan with a lid. Just give it some time to melt and spread its gorgeous taste.
And then you are done- your perfect vegetarian dinner with lots of veggies and taste is ready and will keep you all filled up until you go to bed. If you cook the spelt beforehand, you can make this dish in 15 minutes or less. This makes it a perfect weekday dinner 😉
Have fun!
XOXO, Stef