Hello lovelies!
Shopping at the market sometimes really inspires me. The food is always nicely arranged and that just makes me want to buy it 😉 This dish is one of these classic spontaneous decisions- beautiful potatoes, green asparagus and fresh fish wanted to come home with me and could there be a better companion for them than a homemade sauce hollandaise? I just couldn't skip that, so I bought all this delicious stuff and packed it on one plate. It was simply gorgeous- delicious and filling! We had a glass of white wine with it, because sometimes it's all about treating yourself…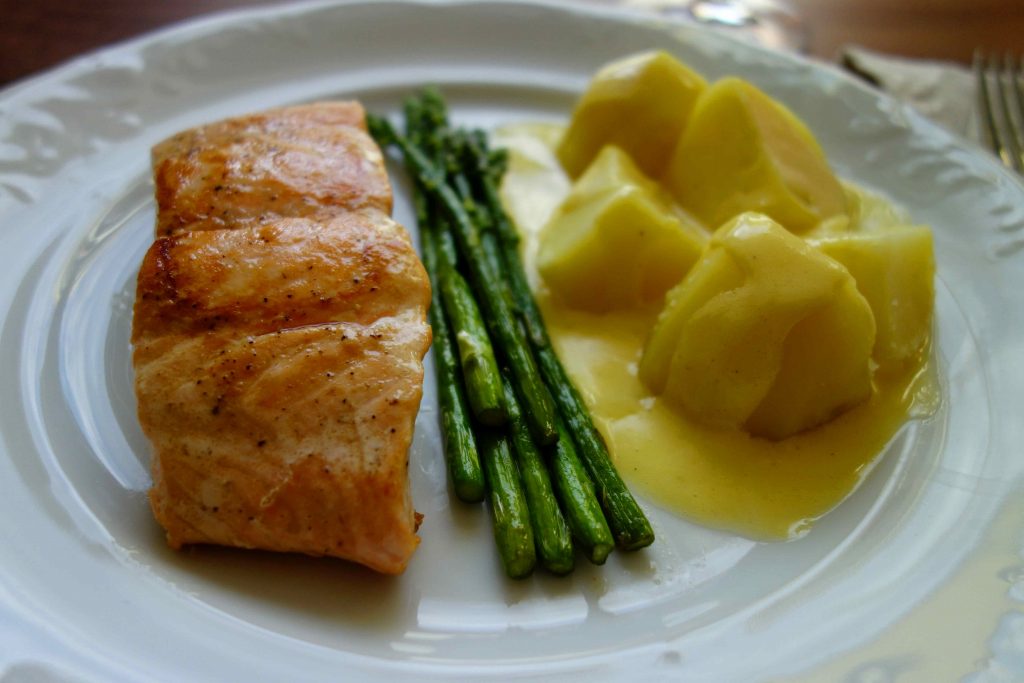 For 2 portions you need:
125g butter
400g potatoes
3 egg yolks
1 tbsp. of each water, white wine and vinegar
300g fresh pollack
1 bunch young green asparagus
salt, pepper, sugar
oil for frying
Preparation:
First, you put the butter in a little pot, melt it and put it aside. Then you peel the potatoes, cut them in eights and cook them in salted water. Next you prepare the sauce hollandaise. Therefore put the three egg yolks with water, white wine and vinegar in a water bath and beat them until thick and creamy. Make sure that the water doesn't come to a boil. Then you take the melted butter, which should be lukewarm by now, and add it by spoonfuls to the egg mixture. Lastly, season the sauce to taste with salt, pepper and a pinch of sugar and keep it warm on the water bath.
Now you need a pan for the pollack. Pour some oil for frying in the pan, add the pollack with the skin side facing downwards and season it with a bit of salt. Then you close the pan with a lid and fry the pollack until the flesh turns pink. Before serving, you can fry it from the other side as well to get a nice color. The asparagus was made in a pan, too. I like to add some butter to the pan and fry it just as it is. Then you season it with some salt and a generous pinch of sugar. That's it- just drain your potatoes, arrange everything nicely on a plate and enjoy your dinner with a glass of white wine on the terrace 🙂
Have fun!
XOXO, Stef