Hello lovelies!
I thought, we'll just stick to asparagus this week, because I love to eat it. Actually, I don't really like the way it is normally prepared. Therefore, I decided to just bake it in the oven today. I think oven baked veggies are extremely convenient and delicious. This dish is a perfect weekday dinner. It's quick, easy, leaves you with a (nearly) clean kitchen and the leftovers can be eaten as a salad. That way you already have lunch for the next day- can we ask for more?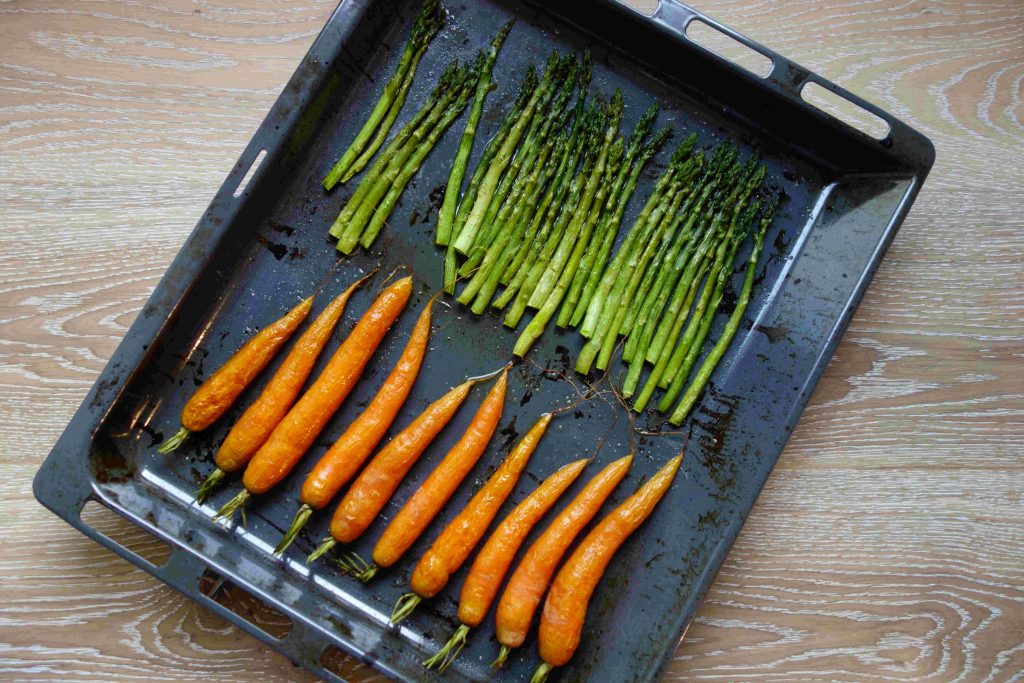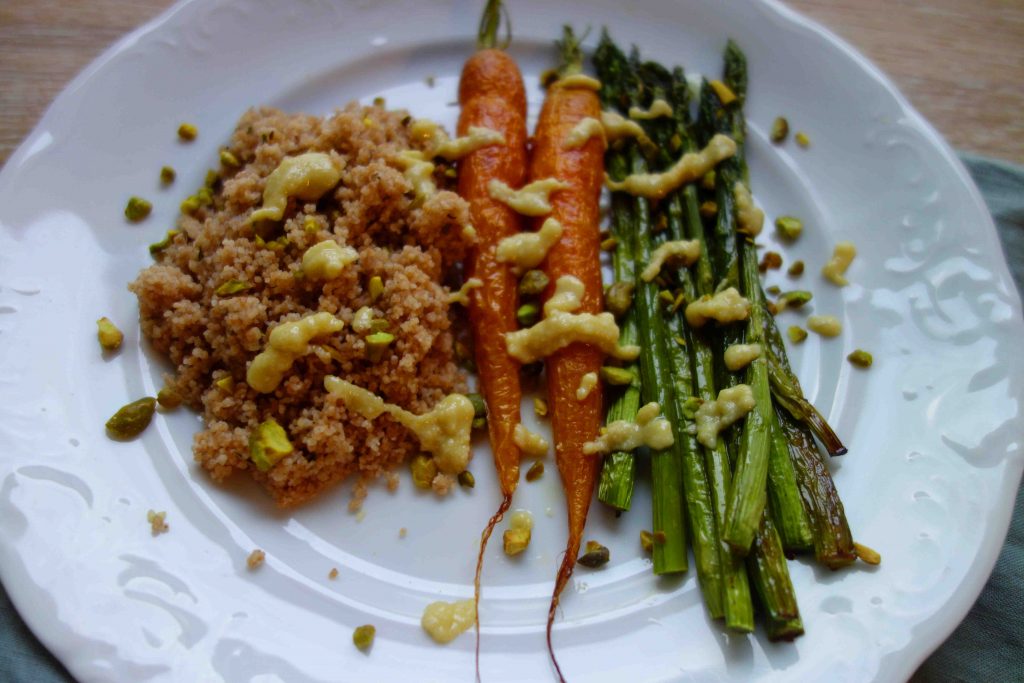 For 2-3 portions you need:
1 bunch carrots
1 bunch green asparagus
200g couscous
2 tbsp. Tahin
one handful pistachios
salt, mint
olive oil
Preparation:
First, you preheat the oven to 180°C. Then you wash and dry the carrots and asparagus and spread them evenly on a baking tray. Next you drizzle some oil on them and sprinkle them with salt. Toss them with your hands to make sure that the oil and salt is evenly distributed. Then you bake them for about 30 minutes.
In the meantime you can prepare the sesame dressing. Just put two tablespoons of tahin in a small bowl and whisk them up with some olive oil. Stop adding olive oil when you reach the desired consistency. You can also season the dressing to your taste with salt, herbs and garlic. I just added a bit of salt, because sometimes it's best to keep it simple.
Next, you chop the pistachios and dry-roast them in a pan until they become fragrant. A few minutes before your oven roasted veggies are ready, you prepare the couscous. Therefor, pour 200g of couscous in  a bowl and add some salt, dried mint, two tablespoons of olive oil and 300ml of boiling water. Give it a good stir and let it soak for a few minutes.
That's it! Arrange the couscous and your oven roasted veggies on a plate, drizzle with the sesame dressing and sprinkle with the roasted pistachios. To prepare the salad made from leftovers, chop up the veggies to bite size. Mix them with couscous, sesame dressing and add some leafy greens, if you want to.
Have fun!
XOXO, Stef
Please follow and like us: