Hello lovelies!
I made this delicious Vanilla Rhubarb Crumble Pie for my dad on Father's Day. So today you're getting some original pictures from my grandma's coffee table, because she invited us over for coffee that day. I think it is really nice to get you some sneak peeks into my life every now and then on the blog as well. By the way, the rhubarb comes from my own garden. It is always one of the first things I can harvest- besides some salad. Actually, I'm thinking about doing another gardening series this year. It won't take long until all my garden beds are filled with plants. What do you think? Do you want to see stuff like that? Okay, I've talked enough 😉 Here comes the recipe!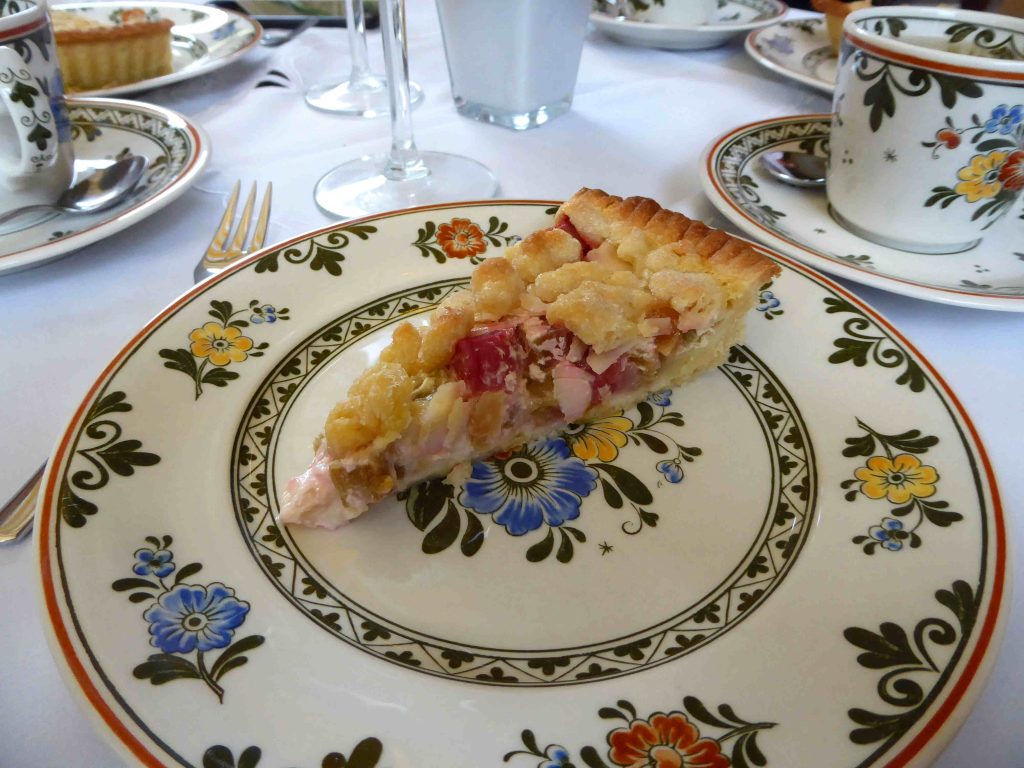 For one pie you need:
250g white spelt flour
125g soft butter
70g sugar
1 pinch salt
1 egg
some water
400g rhubarb
250ml milk
1 packet vanilla pudding powder or use this
50g sliced almonds
some extra sugar
Preparation:
First, you prepare the shortcrust. Therefor, pour the flour in a bowl and add the soft butter, sugar, a pinch of salt and one egg. Work it with a dough hook until a crumbly dough forms and add in one to two tablespoons of cold water if necessary. Roll the dough into a ball by hand, put it on a plate and cover with a bowl. Then put it in the fridge for at least 30 minutes.
While the dough is in the fridge, you can wash the rhubarb, cut it in small cubes and mix it with some sugar. Next you preheat your oven to 200°C and start to put your pie together. Therefor, grease a pie pan and thinly roll out the dough on the floured work surface. Line the pie pan with the shortcrust and cut off the edges. Then take the leftover dough, crumble it and roll the crumbles in sugar.
Now you add the rhubarb to the lined pie pan. Next you mix the milk with the vanilla pudding powder and pour the mixture over the rhubarb. Then cover the whole filling with your sugared crumbles and some sliced almonds. If you want to, you can add some nice pattern to the edge of the cake by pressing it down with a fork. Now your Vanilla Rhubarb Crumble Pie is ready to go in the oven. Bake it for approximately 35 to 45 minutes. Then let it cool completely, before taking it out of the cake pan. Serve it with some freshly whipped and lightly sugared cream and enjoy.
Have fun!
XOXO, Stef