Hello lovelies!
It is really fallish here in Augsburg. The sky is fog-shrouded, it's constantly drizzling and the sun only shows up occasionally. For me, this means time for warming dishes to comfort myself. After spending half of the day in my garden, I was chilled to bones yesterday. As I had some leftover fennel at home, I definitely wanted to cook with it. Together with some lentils and sweet potatoes this made a gorgeous dinner to warm and fill me up 🙂 Moreover the colors are so fallish and I love that. Of course, I used regional and seasonal produce again, because it just tastes so much better.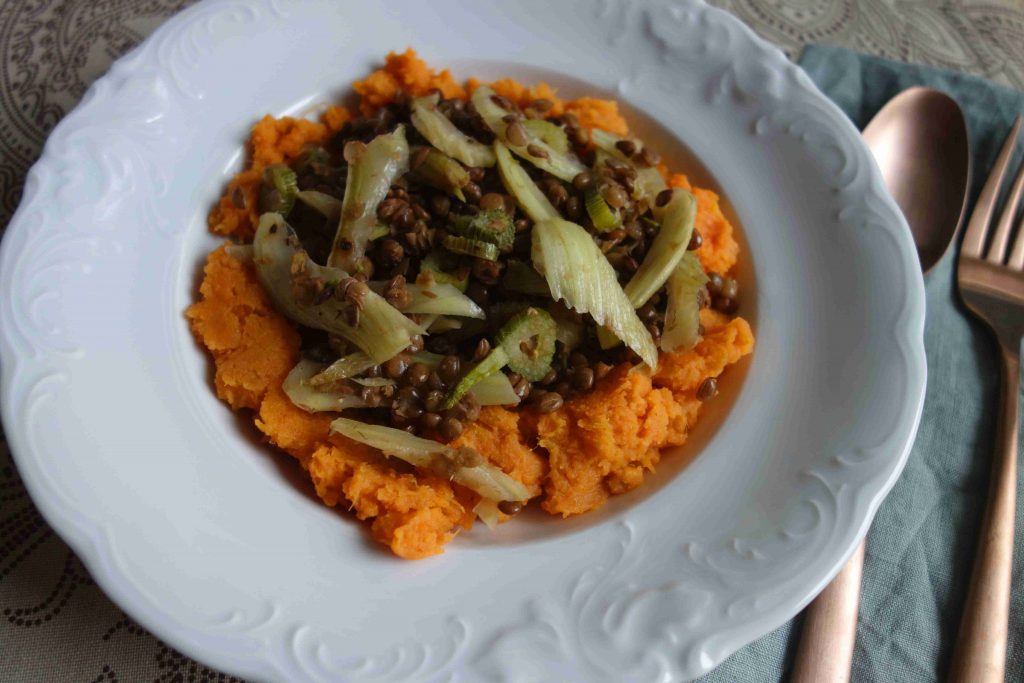 For 4 portions you need:
200g brown lentils
900g sweet potatoes
300g fennel
1 tbsp. brown sugar
salt, pepper, nutmeg
vegan butter
oil
Preparation:
Firstly, cook the lentils in about twice as much water for around 45 minutes on low heat. Meanwhile peel the sweet potatoes, dice them and cook in lots of salted water until soft. Now you prepare the fennel. Therefor remove the fennel fronds, chop them and put aside for later. Next, cut the stalks in fine rings and finish with the main part. Just cut it in half, remove the stem and then finely slice it. After that, pour some oil in a pan and fry the fennel on medium-high heat.
When the fennel is lightly browned, add in a level tablespoon of brown sugar. Now put a lid on the pan and let the fennel caramelize. In the meantime you can strain off, rinse and then drain the lentils. The sweet potato chunks should also be done by now. Remove the excess water and add some vegan butter, salt, pepper and freshly ground nutmeg. Then you mash the sweet potatoes. The lentils can now go to the pan with the fennel. Season the lentils and fennel to taste with salt and pepper. In the end, dress everything nicely and serve it topped with some chopped fennel fronds.
Have fun!
XOXO, Stef