Hello lovelies!
Leaves are falling, it's getting colder and the sun already sets pretty early. All of this made me crave some typical dish you find at German Christmas markets. The so called 'Schupfnudeln' are finger-shaped potato dumplings and they are so delicious. Furthermore I wanted to make the homemade sauerkraut enjoyable for my husband. As he doesn't like raw vegetables at all, I decided to cook the kraut and serve it with homemade 'Schupfnudeln'. I actually do have an idea on how to veganize this dish, but I didn't feel like experimenting yesterday. I'll just note down the vegan alternative for you and would kindly ask you to leave a comment below, if you try it 😉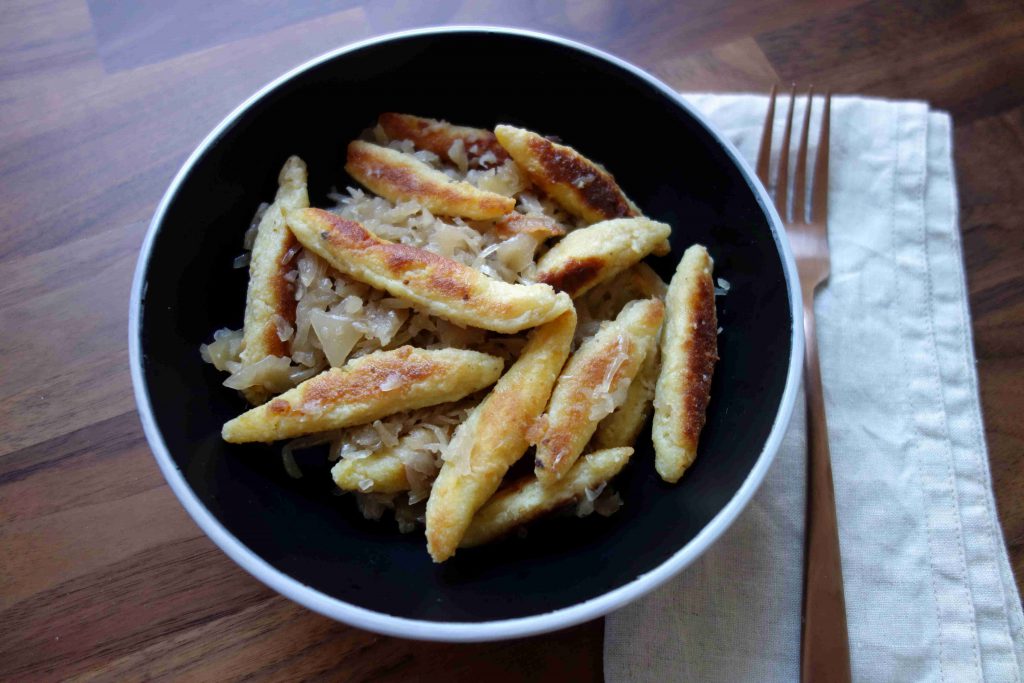 For 6 portions you need:
1,2kg floury potatoes
2 eggs (alternatively 4tbsp. cornstarch + 6tbsp. water)
180g white spelt flour
salt, nutmeg
2 onions
8 juniper berries
2 bay leaves
1kg sauerkraut
350ml naturally cloudy apple juice
oil and (vegan) butter for frying
Preparation:
First you wash the potatoes and cook them with their peel on, until done. In the meantime peel the onions and finely dice them. Then put some oil in a big pot and fry the onions until translucent. Next, crack the juniper berries and add them to the pot as well as the bay leaves and apple juice. Now drain the sauerkraut and taste it. If it's too salty, just rinse it and then add it to the pot, too. Bring everything to a boil and let it simmer for 40 to 50 minutes.
When the potatoes are done, let them cool down for a little while. Next, they must be peeled and pushed through a potato ricer. I'm using a really old one from my great-grandmother. If you don't have a potato ricer, you can also thoroughly mash the potatoes. Now add in the eggs or egg substitution, flour, salt and freshly ground nutmeg and knead it by hand, until you get a smooth dough. If it's too sticky, just add in some more flower.
Next, you take a piece of your potato dough and form a roll with three centimeters in diameter. Cut off pieces, which are one finger wide, roll them with the palm of your hand and then roll them with your finger tips to form pointed ends. I know that's a lot of rolling 😉 When you are done, add the 'Schupfnudeln' to salted boiling water and let them simmer for two to three minutes. In doing so, they will sink to the ground and then come back up to float at the water surface. Now you can easily take them out using a slotted spoon and let them drain in a sieve.
When your sauerkraut is nearly done, season to taste with some salt and let all the excess liquid evaporate. Then you remove the juniper berries and bay leaves. Now heat some oil and (vegan) butter in a big pan and fry the 'Schupfnudeln' until golden brown. Add in the kraut, give it a good stir and you're ready to serve.
Have fun!
XOXO, Stef