Hello lovelies!
Do you know the black salsify? It is one of our new discoveries from eating regional and seasonal food. Once peeled, it kind of reminds of asparagus and that's why it is also sometimes referred to as 'winter asparagus'. Talking about taste, it reminds me more of other root vegetables like parsnips. The black salsify is in season from November to March. I wanted to prepare it as puristic as possible to give it a try and that's why I made it separately from the risotto. Of course, you can also add it directly, but I would definitely recommend to precook the black salify, because it stains and changes color when peeled raw.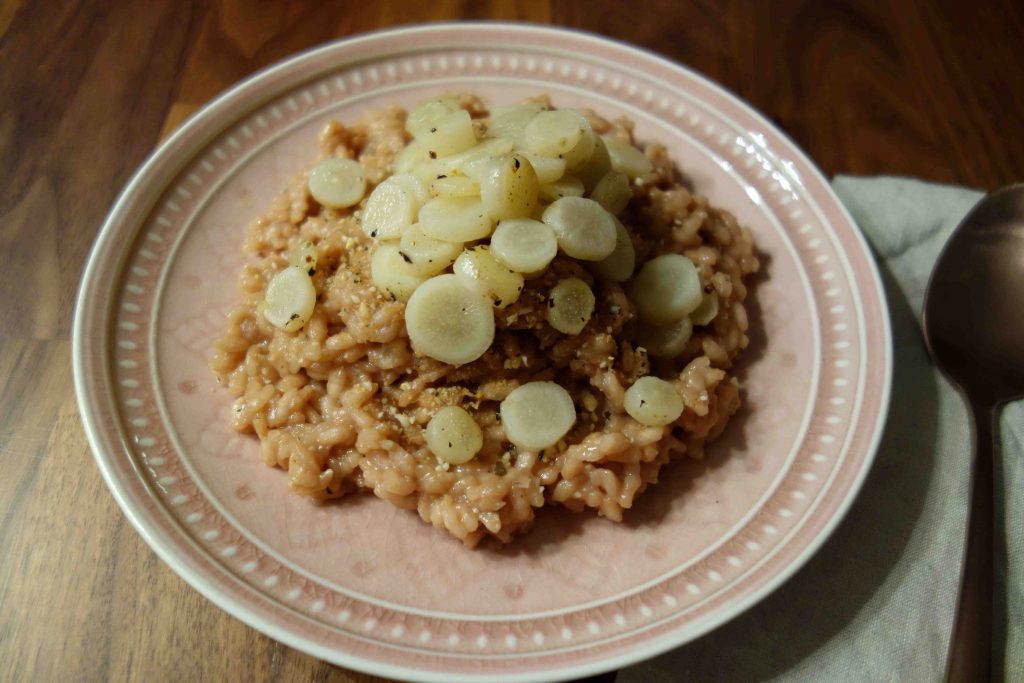 For 2 portions you need:
3 black salsifies
2 shallots
220g risotto rice
100ml white wine
500ml veggie stock
vegan Parmesan
salt, pepper, nutmeg
Olive oil
vegan butter
preparation:
First, you wash the black salsifies, cut them if necessary and cook them in lots of salted water for approximately 20 minutes. Then you drain them and refill the pot with ice cold water. When they have cooled down, you can easily remove the peel and slice the black salsifies.
In the meantime, prepare the risotto. Therefor peel the shallots and finely dice them. Now add two tablespoons of olive oil to a pot and fry them until translucent. Then measure out the rice and bring your veggie stock to a boil. Next, add the rice to the pot with the shallots and braise until translucent as well. Now pour in the white wine and let it evaporate while constantly stirring. Then you add in just enough veggie stock to cover the rice. When the rice has soaked up the liquid, you cover it with veggie stock again. Go on like that until all the veggie stock is used up.
Now you have two options. Either you add in the black salsifies as well as two to three tablespoons of Parmesan and a piece of butter, when you add in the last bit of the veggie stock, or you prepare them separately. I decided to go with the second option and tossed them with some olive oil and butter in a pan. To finish it all off, I seasoned the risotto to taste with some salt and freshly ground nutmeg and the black salsifies with just salt and pepper.
Have fun!
XOXO, Stef