Hello lovelies!
I do a vegan day at least once a week, which makes me feel so good. Unfortunately, this is always kind of tricky, when it comes to bread. That's why I thought about showing you some vegan sandwiches throughout the next week. Today we'll start with the Green Goddess Sandwich- it is healthy and delicious. Just give it a go!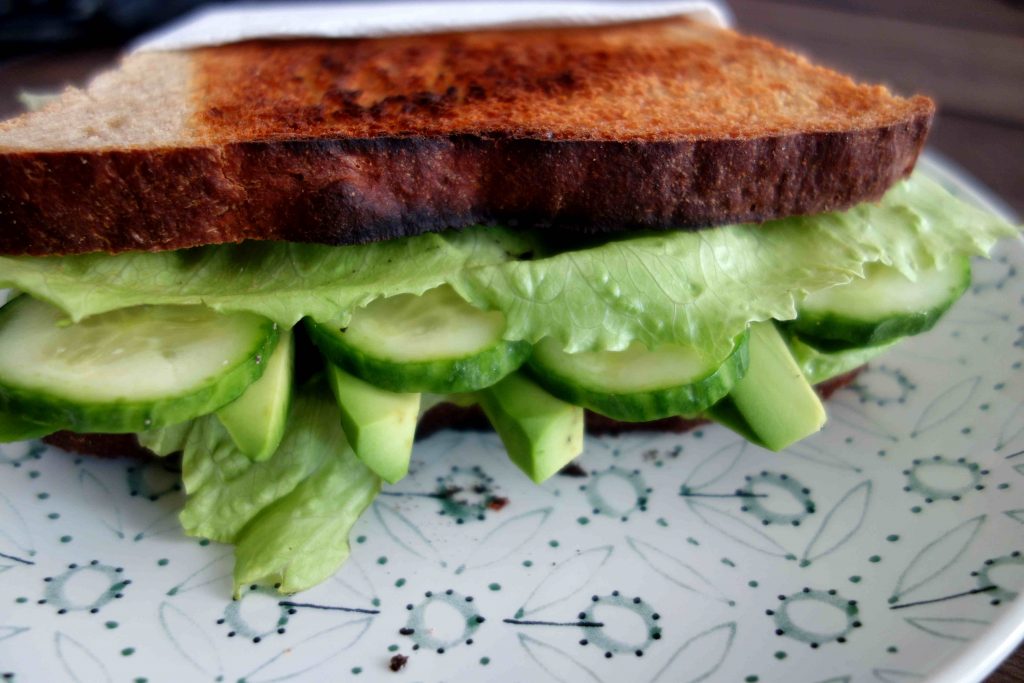 For 2 sandwiches you need:
4 slices of toast
4 leaves of lettuce
1/2 cucumber
1 avocado
a bit of  lemon juice
salt, pepper
Preparation:
To make sure that the toast is vegan, I baked it myself. Once again I did my delicious toast made from kamut flour 🙂
At first we prepare all of our ingredients. Therefore you have to wash the lettuce and the cucumber. Then you cut the cucumber into slices. I always buy organic cucumbers, so I can leave the skin on. This is important, because most of the nutrients are in the skin or right underneath it. Next, you bake your toast until it's crispy and golden.
In the meantime you can prepare the avocada. Cut it in half and get the seed out. After that you take a tablespoon to get the pulp out of the skin. If it is still kind of hard, just cut it into strips and sprinkle with lemon juice. If it's already smooth, make it guacamole. Therefore you just mash it with a fork, sprinkle it with lemon juice and season with salt and pepper.
Now you can put your sandwiches together. Lay the toasted slices on your kitchen counter and stack them up with your veggies 😉
For the version with the sliced avocado, you start with a leave of lettuce, then your avocado slices and some salt and pepper. Now you put the cucumber slices, the second leave of lettuce and toast on top and you're done.
For the version with the guacamole, just spread it on all four slices of toast, put the lettuce leaves and the cucumber slices in between. That's it!
I prefer the guacamole version because it's easier to eat. As you can see, this sandwich is quickly made and it's a good staple for your lunch box, if you're bored of having just a salad or a sandwich.
Have fun!
XOXO, Stef