Hello lovelies!
Today I have a recipe for a classic sandwich bread made with an ancient grain. Khorasan wheat- commercially known as kamut- is an ancient form of wheat and had been cultivated in Egypt. It contains more protein, amino acids, vitamins and minerals than wheat. Talking about taste, kamut is very different from wheat and I really like it. As I like my breads to be vegan, I used water and margarine instead of milk and butter. I made two loafs of sandwich bread, because it is always good to have some of it in the freezer 😉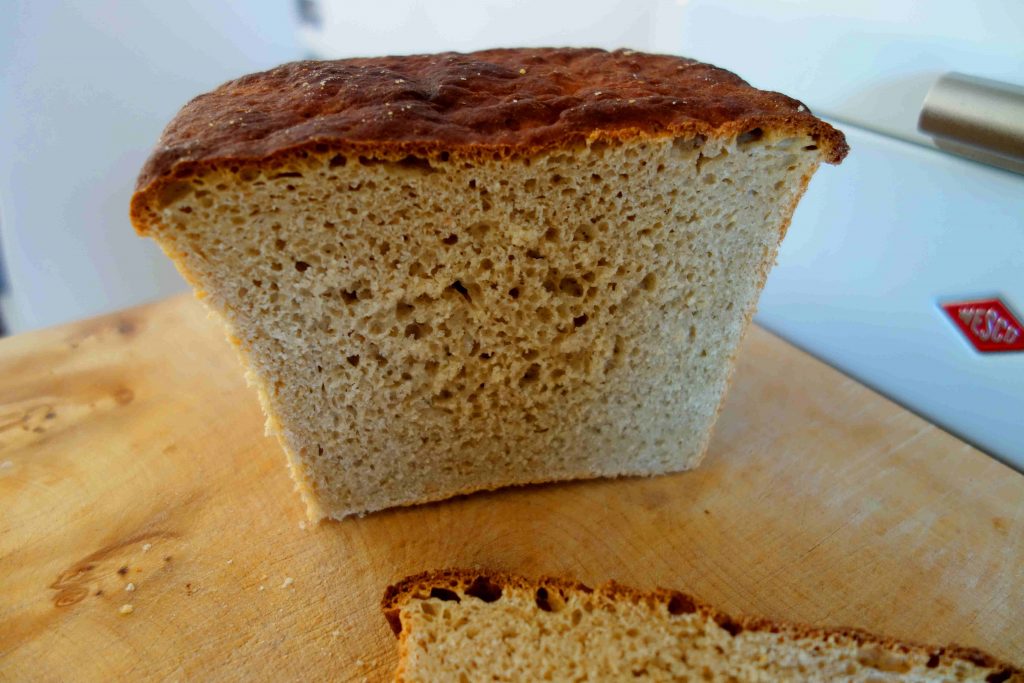 For 2  loafs you need:
550g white kamut flour
550g whole kamut flour
150g sour dough
820ml water
20g salt
10g barley malt
24g fresh yeast
60g margarine
Preparation:
First, you mix the sour dough, water and flours in a big bowl. Cover it with a clean kitchen towel and let the mixture rest for 20 minutes. Then you pour in the salt, barley malt and crumbled yeast. Work it with a dough hook until a smooth dough forms. Next you add in the margarine and continue kneading for at least 5 minutes. Cover the dough again and let it rise for around 45 minutes.
Now take the dough out of the bowl and fold it a few times to tighten it. Divide it in two pieces , form two loafs and put them in greased and floured loaf pans. Cover them again and let them rest for another 70 minutes. While the dough is rising, you can preheat your oven and a bowl for steaming to 250°C. I use a small bowl with stones for steaming.
When the 70 minutes are over, put the sandwich breads in the oven and pour some boiling water in the bowl for steaming. Make sure to protect your hand with an oven mitt or a kitchen towel and close the oven door as quickly as possible. After 5 minutes, reduce the temperature to 210°C and open the oven to let the steam out. Bake the loafs for another 30 to 45 minutes until golden brown. Take them out of the oven and overturn the pans. Put the loafs on a cooling rack and let them cool completely. If you want to freeze the sandwich bread, I recommend slicing it beforehand. That way you can grab single slices form your freezer, toast and eat them directly.
Have fun!
XOXO, Stef