Hello lovelies!
If you are thinking of Bavaria, the Oktoberfest will probably come to your mind. One of the absolute staples of the typical Bavarian cuisine served at the Oktoberfest is half a roast chicken with fries. It's delicious, but often it is very salty. Today I will show you, how to do a roast chicken at home. It is super easy and tastes absolutely gorgeous. The skin is crisp, the meat is moist and it is nicely seasoned. Give it a try- I'm sure you gonna love it 😉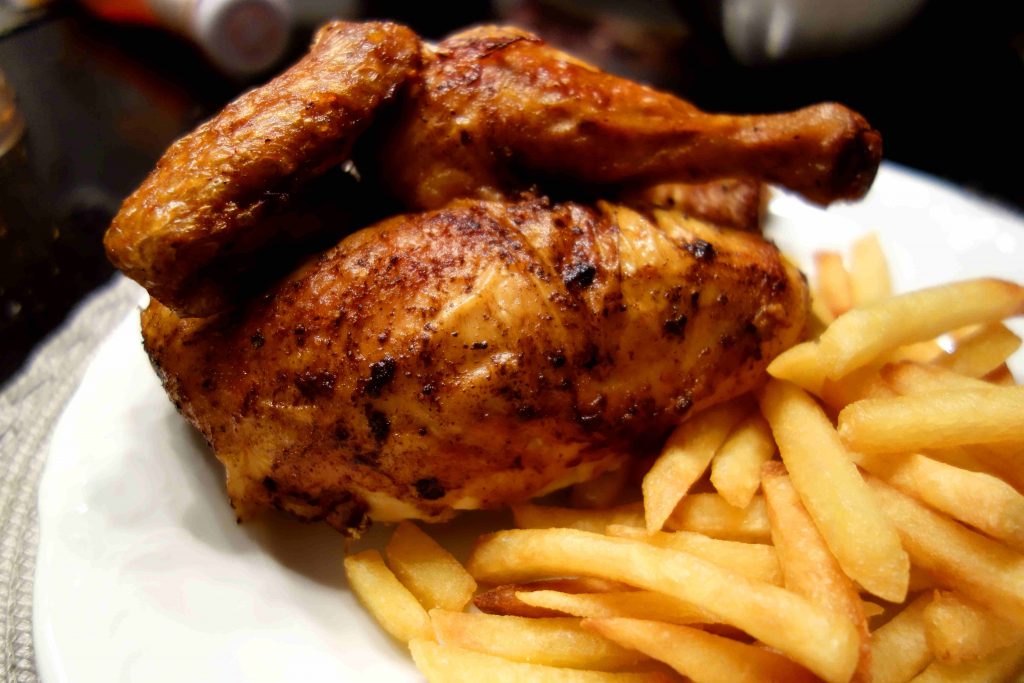 For 2 to 4 portions you need:
1 high-quality chicken
salt, pepper, hot paprika
40g butter
Preparation:
First you have to heat the oven to 240°C. Then you wash the chicken with cold water from the inside and outside. Next you dab it dry and fix the ends of the wings with some kitchen string underneath the back of the chicken. Now you season it with salt and pepper from the inside and outside and rub the skin with hot paprika powder. Melt the butter and put the chicken with the breast downwards on the grid. Then you put a baking tray filled with water underneath the grid and brush the chicken with the melted butter.
Grill the chicken for about 20 to 25 minutes and turn it around, when it is nicely browned. Also brush the breast of the chicken with the melted butter and grill it for another 20 to 25 minutes. Make sure that there is always enough water in the baking tray underneath the chicken. Otherwise the dripping fat will start to burn. When the chicken is nicely browned and crispy, you can remove it from the oven and separate it into two to four portions. You can also do two chickens at once using this method.
We have just cut the chicken in half and each of us has eaten as much as (s)he wanted. The skin should definitely be eaten hot, but the rest can easily be eaten throughout the week. I love to use the leftover chicken in a nice and healthy salad or for some delicious sandwiches.
Have fun!
XOXO, Stef