Hello lovelies!
And here they are again- my beloved lentils. This recipe is just amazing. Well, lentils alone are already really delicious, but together with the dried porcino mushrooms they are heavenly. That's why you won't miss the meat at all 😉 It's best to do a big batch of them, because they are delicious, even when eaten cold and they are a perfect lunch on the go. Meal-Prep rules! It is such an easy way to help you eat healthy and save a lot of money at the same time.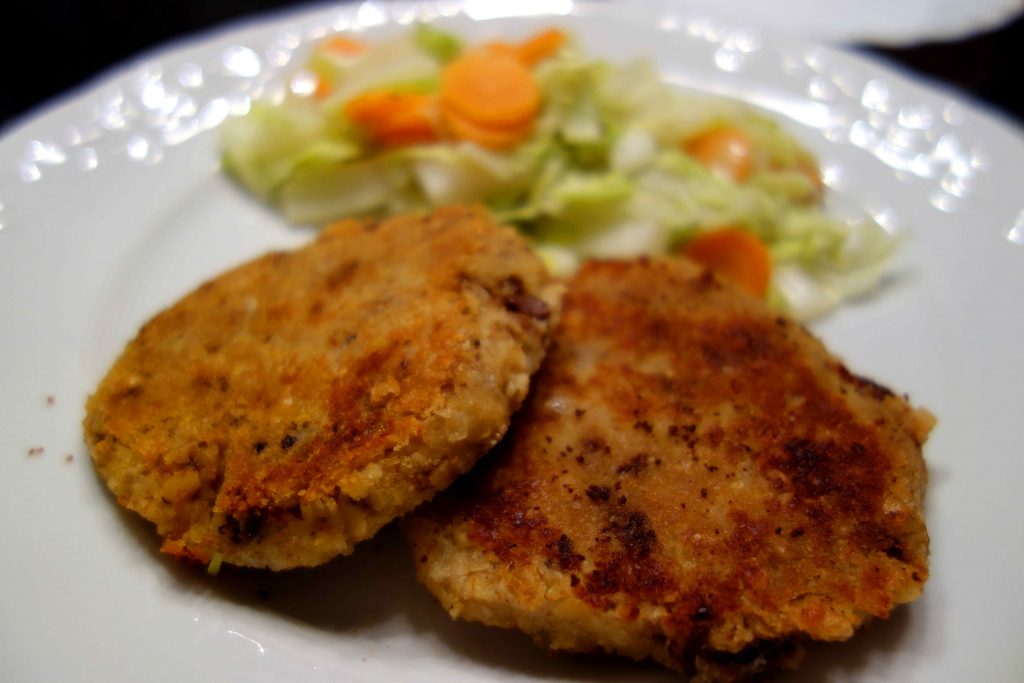 For 4 portions you need:
20g dried porcino mushrooms
170g red lentils
400ml veggie stock
1 onion
30g Parmesan
40g instant oats
breadcrumbs
400g pointed cabbage
200g carrots
some cream
salt, pepper, allspice
oil for frying
Preparation:
At first you have to soak the dried mushrooms in lukewarm water for 10 minutes. Next, you pour the lentils into the boiling veggie stock and let them simmer for around 20 minutes with a half opened lid. Then you drain the lentils and let them sit in the sieve to get rid of all the excess water. In the meantime, you can peel the onion and finely dice it. Then you squeeze the mushrooms- save the water- and chop them. Now, heat some oil in a pan and fry the onion and mushrooms until the onion cubes start to caramelize. After that you mix the drained lentils with Parmesan, instant oats and the onion-mushroom-mixture and season it with salt, pepper and allspice.
Now you can form your patties and cover them with breadcrumbs. Then they have to rest for at least 15 minutes. In the meantime, you can prepare the veggies. Therefore, peel the carrots and slice them. Next, you quarter the pointed cabbage and cut it into thin strips. Now you heat some oil in a pan and fry the veggies at medium-high heat. Season it with some salt, pour in the water from the mushrooms and let it simmer for 10 minutes.
In the meantime, you can fry the lentil-mushroom-patties and put them on a towel to remove the excess fat. When the last patties are in the pan, you can finish the veggies. Just pour in a bit of cream and season to taste with salt and pepper. Now you just have to arrange everything nicely on your plate and eat 😀
Have fun!
XOXO, Stef