Hello lovelies!
As you might have noticed, I'm quite into vegetarian meals lately. I try to focus on seasonal and locally grown veggies. Therefor we gave fennel a try. I always thought that I don't like fennel, but this creamy fennel pasta convinced me of the opposite. It's so easy to make, super creamy and absolutely delicious. Furthermore it is really quick and makes a perfect weekday dinner, but just take a look by yourself!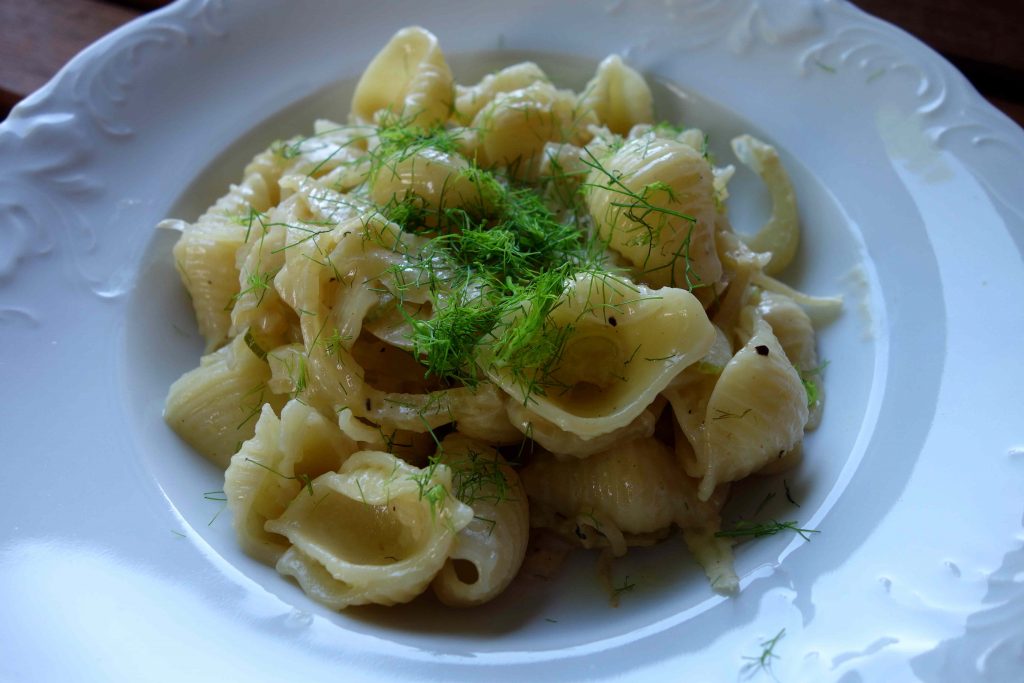 For 2-3 portions you need:
1 fennel
2 shallots
1 clove garlic
150g cream
200g pasta shells
1 tsp. brown sugar
salt, pepper
oil for frying
Parmesan
Preparation:
First you remove the fennel's green, chop it and put it aside. Then you cut the fennel in half, remove the stem and finely slice the fennel. Next you peel the shallots, cut them in half and finely slice them, too. Now peel the clove of garlic and finely dice it. Heat some oil in a wide pan and fry the shallots. Add in the garlic and fennel and sauté everything. Then you add in a teaspoon of brown sugar and 100ml of water and let it cook for a few minutes with the lid put on.
In the meantime you can bring the water for your pasta to a boil. As soon as the water starts boiling, add in a generous amount of salt and your pasta. Next you remove the lid from your pan and let all the water evaporate. Now add in the cream, season to taste with salt and pepper and bring your sauce to a boil. When your pasta is al dente, drain it and add to the pan with the fennel sauce. Give it a good stir and serve the creamy fennel pasta with freshly ground Parmesan and the fennel greens.
Have fun!
XOXO, Stef