Hello lovelies!
Everyone nows them, nearly everyone has them: store bought instant veggie stock, instant gravy and more nasty stuff brought up by the food industry. In fact those things are everything else but necessary, because you can easily substitute them by high-quality homemade products. Around two years ago, I banned those powders from my household and I don't miss them at all. As I often use veggie stock as a base for my sauces, I replaced the powder by a super simple recipe: salted mirepoix.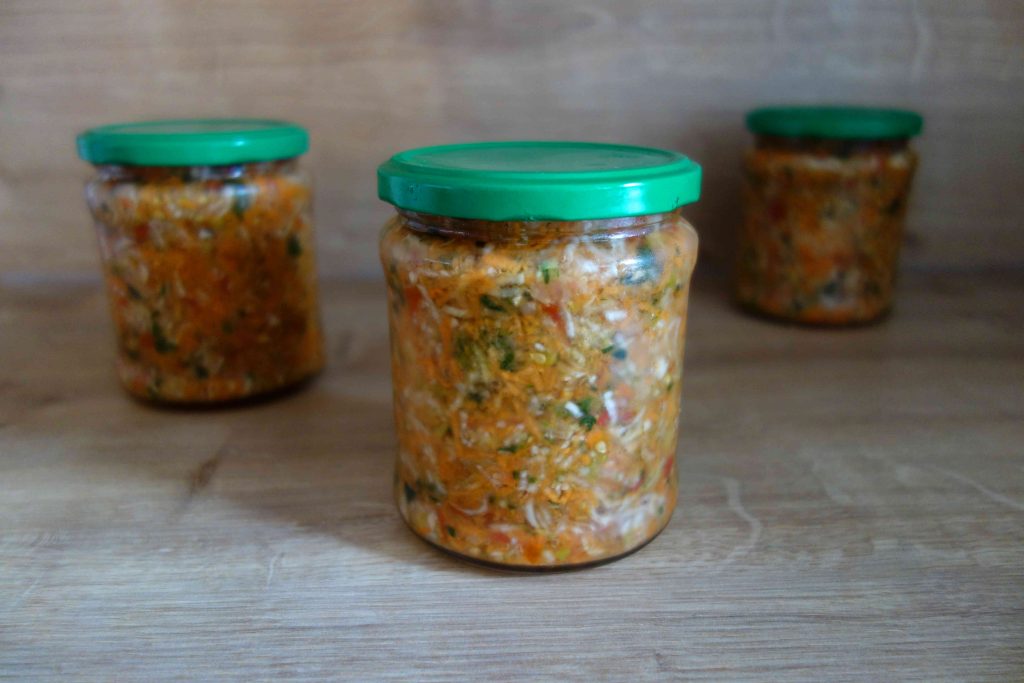 Therefore you need:
carrots
celery root
leek
parsley roots
tomatoes
onions
salt
Of course, you don't need to use all the veggies mentioned above. You can adapt this recipe to your individual taste. The ratio of the ingredients is also a matter of taste, that's why I didn't put any weights.
Preparation:
Take the veggies and prepare them. Therefore cut off the small roots of the celery root and cut the leek in half. Then you can wash your veggies and peel the onions. Now you have to shred the veggies. For carrots, parsley roots, celery root and onions I tend to use the shredder attachment of the kitchenaid for fine shredding. For the tomatoes and leek I prefer to use the meat grinder. When you are done with shredding, you mix it all together, weigh it and add 10% salt. Stir it in and transfer it into clean jars.
If you have a cold cellar, you can store it there. Otherwise, it is best to store it in the fridge or to dehydrate it, if you made big amounts. When the jar is open, it has to be stored in the fridge anyways (unless you dried it).
How to use it:
When you need a veggie stock, you can bring some water to a boil, add in your salted mirepoix and let it cook for a while. You will need around a tablespoon for 500ml of water. If you are in a hurry, you can just pour boiling water over it and leave it to draw like tea for a few minutes.
I'm very happy with my homemade instant veggie stock, because it easy to make, free from flavor enhancers and delicious. Furthermore, it is a great way to use the veggies from you garden and cure them for a long time.
Have fun!
XOXO, Stef