Hello lovelies!
I know that it has been pretty quiet around here for a while, but I have the strong feeling that I need to slow down. That's why I have been skipping the weekend post lately. I hope you are all enjoying Advent as much as I do and that you have time to relax and calm down. Of course, Christmas cookies are a huge thing here in Advent and as baking is kind of therapeutic to me, I will share another recipe for one of these small delicacies with you today. These vegan coconut cubes are so moist and chocolatey <3 They are definitely this years favorite. So, put some Christmas songs, go to the kitchen and bake them right away!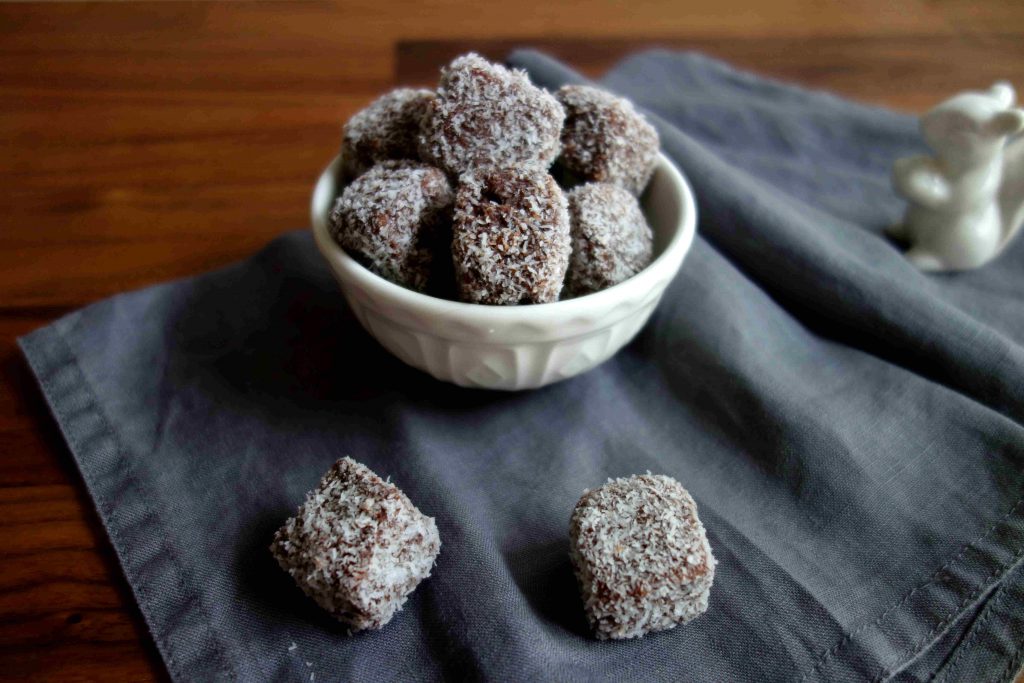 For 65 pieces you need:
Dough
1 tbsp. white chia seeds
50ml water
50g coconut oil
125g brown sugar
1 tsp. vanilla extract
150g white spelt flour
2 tsp. baking powder
1 pinch of salt
50ml almond milk
Frosting
100ml almond milk
100g dark chocolate couverture
1 tbsp. brown sugar
100g coconut oil
100g shredded coconut
Preparation:
First, preheat your oven to 180°C. Then mix the chia seeds with the water and let it soak for around ten minutes. Meanwhile you can weigh out the rest of the ingredients. Add the coconut oil, sugar and vanilla extrakt to the bowl of your stand mixer. Mix the flour, salt and baking powder in another container. Then measure the almond milk. The chia seeds should have soaked up the liquid by now. Add them to the bowl of your stand mixer as well and mix until creamy. After that you start to add the flour mix and almond milk in turns. In the end you will get a thick dough.
Now line the bottom of a square springform pan (23cmx23cm) with some parchment paper and evenly spread the dough on it. Then you bake it for around 15 minutes and let it cool in the springform. When the cake has completely cooled down, you can prepare the frosting. Therefore, bring the almond milk and sugar to a boil, take the heat away and stir in the chopped chocolate and coconut oil. Now cut the cake in 2.5cm cubes and add the shredded coconut to a little bowl. Then you take the cubes, dip them in the frosting and cover them with shredded coconut. After that you just let them dry on a tray. These Christmas cookies will last about two weeks, when stored in a tin canister at room temperature. I prefer to store them in the fridge to make them last longer.
Have fun!
XOXO, Stef