Hello lovelies!
The first Sunday in Advent is already over. The flat is nicely decorated and the wonderful smell of Christmas cookies was the only thing missing. As this problem was pretty easy to solve, we just baked some right away. These chocolate peanut Christmas cookies are quickly made, taste delicious and- bonus- they're vegan 🙂 So, even if you don't have a lot of time and experience in baking, you will manage this recipe. I'm going to make several vegan Christmas cookies this year, but I'll also stick to my classic recipes. I'm just not ready to let them go. My classic recipes are my grandma's butter cookies, which can easily be turned into four different sorts of Christmas cookies, and my homemade speculoos. I promise I'll try to translate the recipes soon!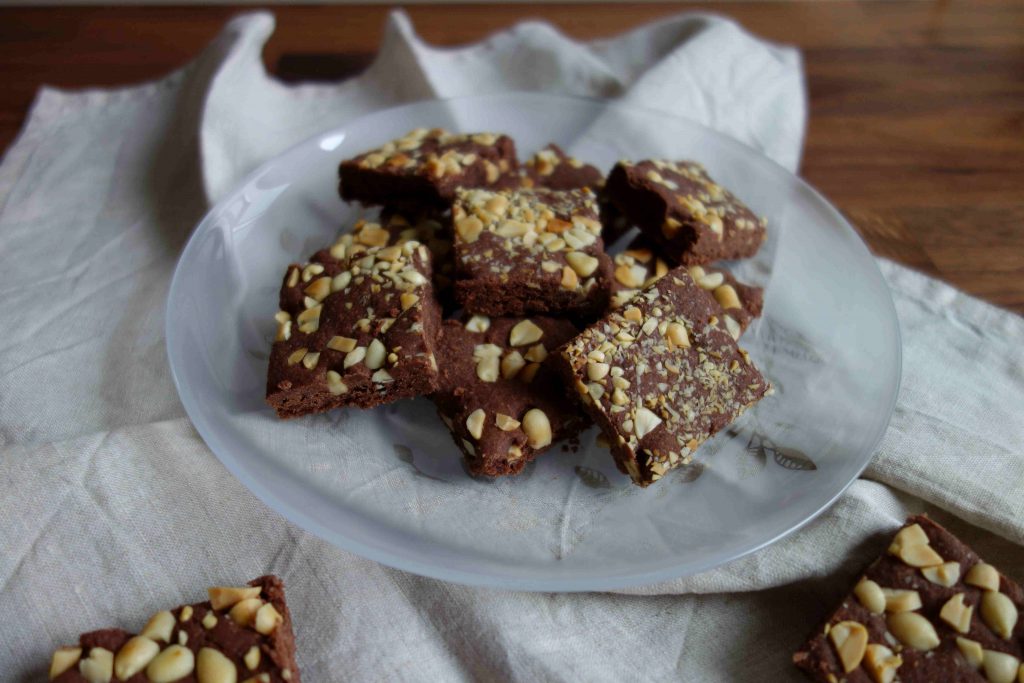 For one cookie sheet you need:
50g dark chocolate
200g vegan butter (room temperature)
2 tbsp. peanut butter
125g sugar
350g white spelt flour
3 tbsp. cocoa powder
50g peanuts
Preparation:
First, you preheat your oven to 180°C. Then you finely grate the chocolate. Next, you put the vegan butter, peanut butter and sugar in the bowl of your stand mixer and whisk them until creamy. Mix the flour with the cocoa powder and sift it into the bowl. Now add in the grated chocolate and work everything with the dough hook. If the dough is too crumbly, add in one or two tablespoons of water.
Now shape the dough into a ball and then press it flat. Take a piece of parchment paper and cut it to the size of your cookie sheet. Then put the dough on a lightly floured silicon mat and cover it with the parchment paper. Next, roll it to the size of the paper and then turn it over to have the dough on top of the parchment paper. Now chop the peanuts and distribute them on the dough. Take your rolling pin and roll them into the dough.
Next, you take the parchment paper with the dough, put it on the cookie sheet and cut it in pieces. The form and size of these pieces is totally up to you. I decided to cut medium-sized squares. Now, bake your Christmas cookies for 12 to 15 minutes and let them cool on a rack. When they have come to room temperature, separate them with a sharp knife. They will last for a minimum of four weeks, when stored in a tin canister.
Have fun!
XOXO, Stef