Hello lovelies!
I finally made time to bake bread again. On the weekend I found some Einkorn wheat in my pantry. As I try to use up all my stuff at the moment, I made bread from it. Then I found some rolled spelt, so I added this to the dough as well. The result was great. After three days, the bread still tastes fresh and delicious. Furthermore, it is really easy to prepare. It just needs some time to rise.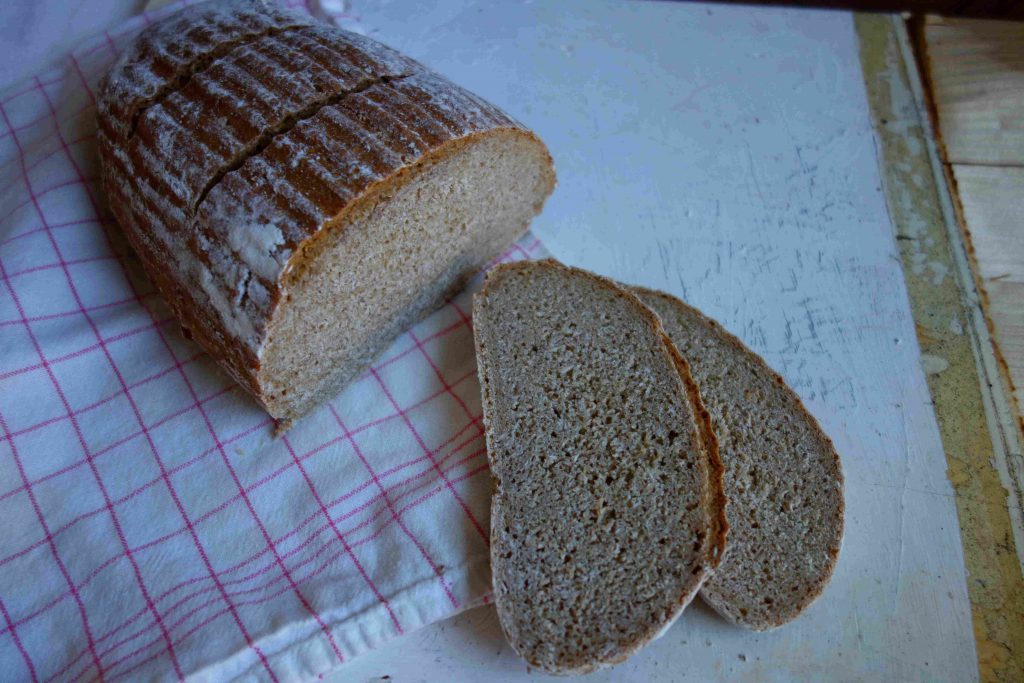 For one loaf you need:
400g Einkorn wheat or whole Einkorn flour
400g white spelt flour
100g rolled spelt
2 tsp. salt
5g fresh yeast
500ml lukewarm water
Preparation:
At first you mill the Einkorn wheat or you just use whole Einkorn flour. Then you pour the freshly milled flour, white spelt flour, the rolled spelt and two teaspoons of salt in the bowl of your stand mixer. Next you dissolve five grams of fresh yeast in half a liter of lukewarm water. Then add this mixture to the dry ingredients and work everything with the dough hook until a smooth dough forms. Now knead the dough by hand and roll it into a ball. Put it back in the bowl, cover with a clean kitchen towel and let the dough rise at 38°C for about two hours.
When the dough has doubled its volume, put it on the floured countertop and give it a good knead. Then you shape it the way you like, put it in a fermentation basket and let it rise at room temperature for another two hours. Now preheat your oven, a pizza stone and a bowl for steaming to 230°C. Then turn the fermentation basket over on the pizza stone, cut the bread the way you like and bake it with lots of steam for 10 minutes. After that, reduce the temperature to 200°C and open the oven door for 30 seconds to let the steam come out. Now bake the bread for another 25 minutes until golden brown.
Have fun!
XOXO, Stef