Hello lovelies!
Today I have a super nice recipe for you which is perfect for the cold winter month. Pan-fried polenta is always a highlight to me and it is totally easy to make. The chestnuts and mushrooms are even better with a generous amount of port wine. Thanks to a good preparation, this dish will only take you 15 minutes to make and everyone will be happy and satisfied. If you want to be fancy, you can also use cookie cutters for the polenta. I like stars 🙂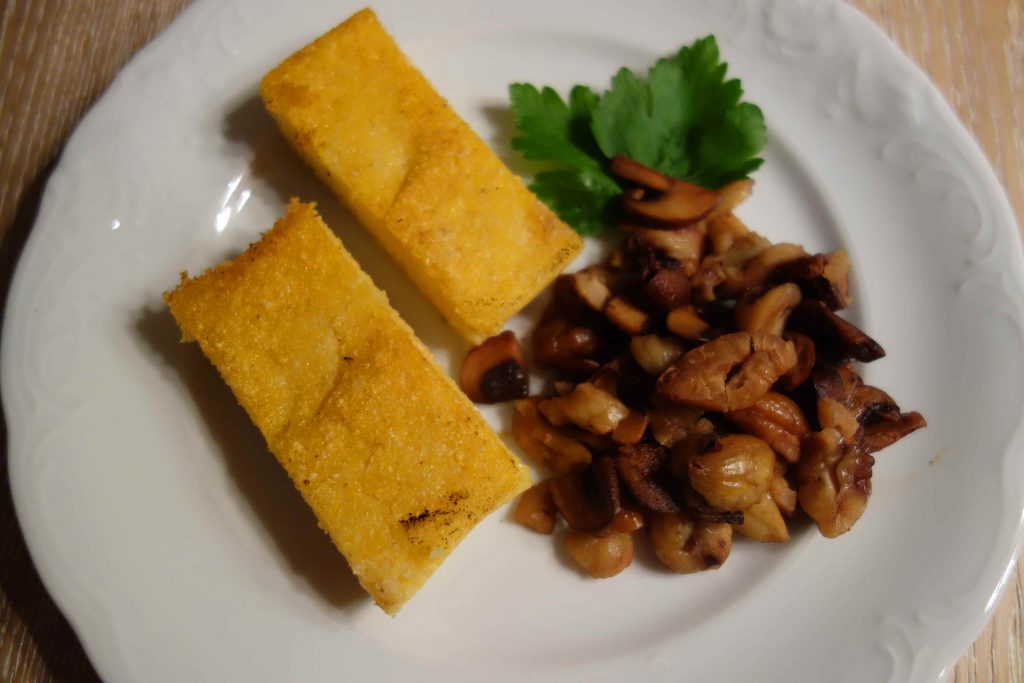 For 2 portions you need:
300g polenta
600ml water
50g vegan Parmesan
200g precooked chestnuts
500g mushrooms
salt, pepper, nutmeg
port wine
oil for frying
Preparation:
First you have to cook the polenta. This is done best the day before. That way it is easier to cut and won't fall apart during frying. Just cook the polenta according to the instructions on the packaging with water and season it with salt, pepper and nutmeg. Then you stir in the vegan Parmesan and spread the polenta evenly in a rectangular cake pan. Let it cool down and put it in the fridge overnight.
The next day, turn the cake pan upside down and cut the polenta in small rectangles. Then you go on with preparing the veggies. Therefore you clean and slice the mushrooms. Pour some oil in an iron pan and fry the polenta slices until they are nice and crisp. Be careful when turning them, otherwise they will break! In another pan fry the mushrooms with some oil. Then smash the chestnuts and put them in the pan with the mushrooms. Pour in a splash of port wine and season to taste with salt and pepper.
Now you can arrange everything nicely on the plate and garnish with some fresh parsley. If you want some fresh greens, I would recommend a rapunzel salad with mandarine, walnuts and a light vinaigrette.
Have fun!
XOXO, Stef