Hello lovelies!
I'm sure you all know brownies, but have you ever eaten blondies? They are the sisters of the brownies which are made with white chocolate. My boyfriend is really into blondies, because he is a huge fan of white chocolate. Therefore I made these babies a while ago. Actually, I'm a fan of pecans since we spent a really nice holiday in Australia and so they definitely had to go in the dough of these blondies. In the end I can just say that I created a new family favorite. Of course, I had to share the recipe with you- they are so delicious 🙂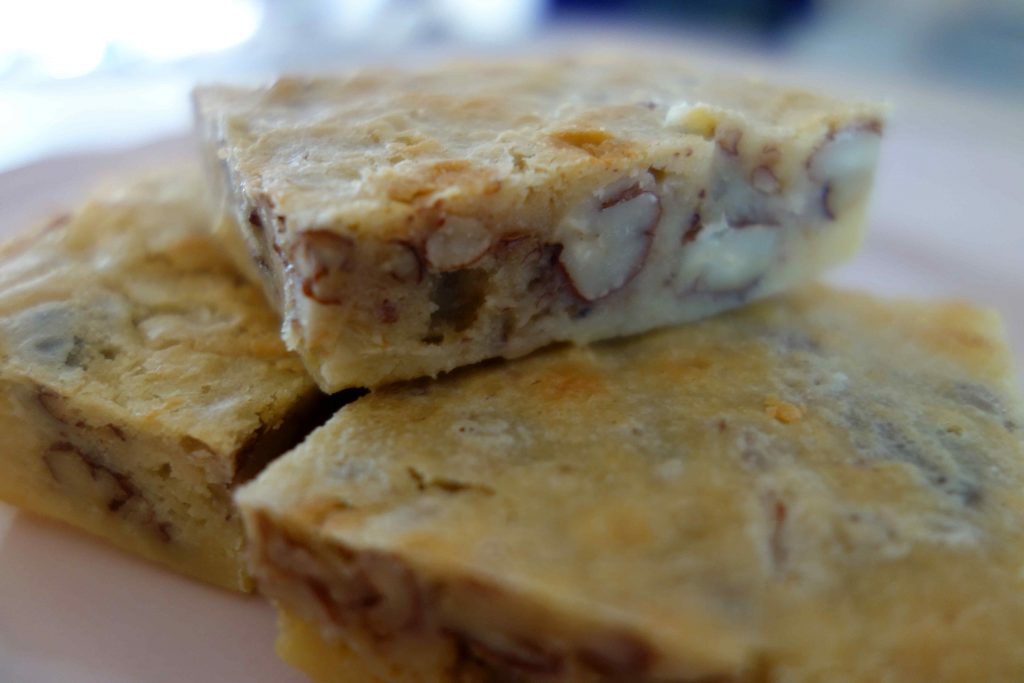 For a small rectangular cake pan you need:

115g butter
170g white chocolate
115g sugar
2 eggs
1/2 teaspoon salt
1 teaspoon vanilla extract
150g flour
2 handfuls pecans
Preparation:
First, you preheat your oven to 180°C. Then you take two handfuls of pecans and roughly chop them. Next you roast them in a hot pan without any oil until fragrant. Now you transfer them to a plate to cool. Then you chop the white chocolate and melt it in a water bath. As soon as the chocolate has melted, you stir in the butter. Now take a bowl and mix the flour with the sugar, half a teaspoon of salt and one teaspoon of vanilla extract. Pour in the liquid chocolate-butter-mixture and stir until well combined. Then you stir in the eggs and the roasted pecans and your done.
Now grease the cake pan and spread the dough evenly in it. Bake the blondies for approximately 25 minutes. They shouldn't be completely baked through. Just like brownies the ideal point for taking them out of the oven is reached, when the surface is crisp and they are still moist on the inside. The baking time may vary depending on the cake pan and oven you use as well as on the height of your cake. When they are right the way you want them to be, take them out of the oven and let them cool completely. Then you get them out of the cake pan and cut them into squares. Now you're ready to enjoy your blondies 🙂
Have fun!
XOXO, Stef