Hello lovelies!
After a day of intensive work in our garden yesterday, I finally managed to write a new blogpost. The sun is shining again today and we'll probably go to the garden later 😉 Today's recipe is kind of wintry, but I think it is also very good to wave goodbye to those cold days. The homemade pasta is as good as it is easy and it is perfect for drying it. So you can make more and simply store it. The Mushroom Bourguignon is just amazing. It has such an intense taste and nobody would expect this dish to be entirely vegan. Give it a try and look if anyone notices!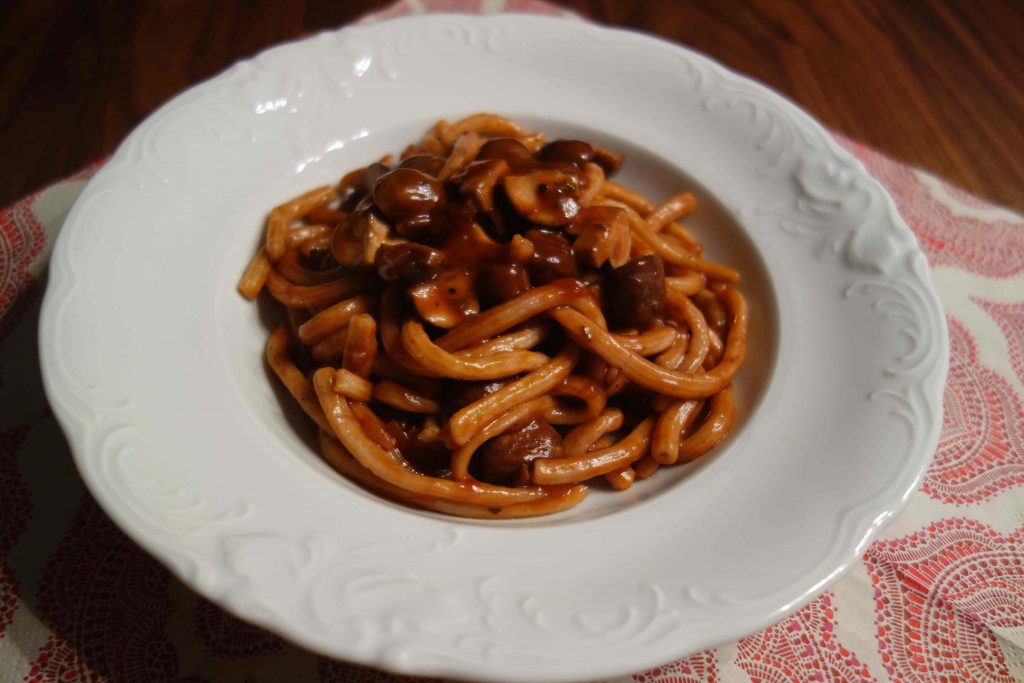 For 2 portions of homemade pasta you need:
200g semolina
90ml very warm water
Preparation:
First, you pour the semolina and water in the bowl of your standmixer and mix everything with the dough hook until a crumbly dough forms. Put it on the kitchen counter and go on kneading by hand until a smooth and elastic dough forms. It shouldn't be sticky. Cover it with a small bowl and let it sit for 30 minutes -the Italian grandmas do it that way and it saves you the cling film! After that you can use the dough for any kind of pasta you like. I decided to do small macaroni. If you don't have a pasta machine, I recommend doing ribbon noodles, because they are quite easy to make. Let your pasta dry a bit and do the Mushroom Bourguignon in the meantime.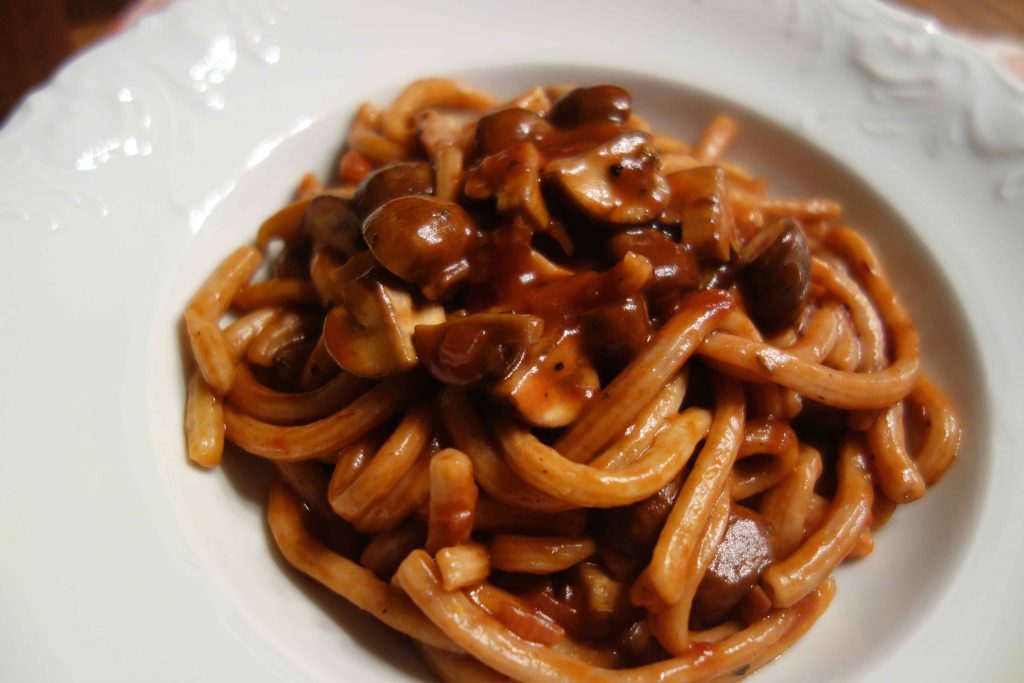 For the Mushroom Bourguignon you need:
200g mushrooms
1 onion
1 clove of garlic
2 tbsp. tomato paste
200ml veggie stock
100ml red wine
salt, pepper, Italian herb mix, paprika powder
olive oil
Preparation:
First, you clean the mushrooms and quarter them. Then you peel the onion and garlic and finely dice them. Pour a generous amount of olive oil in a pan and fry the mushrooms at high heat. Next, you add the diced onion and garlic and keep frying until the onion becomes translucent. Now put in the tomato paste and roast for a few seconds before you deglaze with the veggie stock. Let it boil down to half the amount it was and add in the red wine. Season to taste with salt, pepper, paprika powder and Italian herbs and let it simmer for a few minutes. Bind the sauce with a bit of flour if necessary.
In the meantime you can bring the water for your pasta to a boil. Choose a big pot and add in a lot of salt and the pasta, when it starts to boil. Fresh pasta has a very short cooking time. It takes about 3 minutes until it is al dente. I just drain it for a few seconds and than toss it in the sauce right away. Now just stir to fully cover your pasta with the Mushroom Bourguignon and enjoy 😉
Have fun!
XOXO, Stef