Hello lovelies!
I took part in "Synchronbacken" again and this time we made a really gorgeous bread. The miche needs some time to make, but it is definitely worth it. The crumb is fine-pored and the bread tastes so good. I used some leftover wheat flour for this recipe, but I think this would also work with spelt flour. I joined team sourdough as I really love the taste a good sourdough adds to my homemade breads 🙂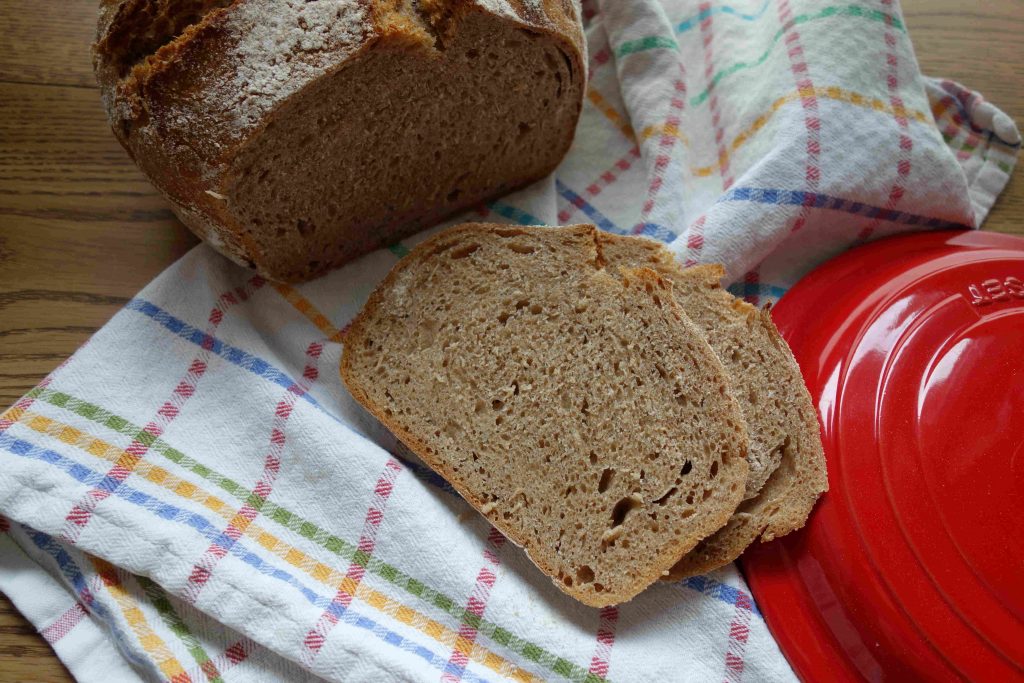 For 1 loaf you need:

levain
115g lukewarm water
35g ripe sourdough starter
195g whole wheat flour
4g salt
dough

levain
395g lukewarm water
3g yeast
150g all-purpose flour
305g whole wheat flour
9g salt
Preparation:
First, you prepare the levain. Therefore, mix the water with the sourdough starter and then add the flour and salt. As the levain is very stiff, you can knead it by hand until it is smooth. Then put it in a bowl, cover with a tea towel and let it set at room temperature for 12 to 16 hours.
The next day you can make the dough. Therefore, dissolve the yeast and the levain in 395 grams of lukewarm water. Next, you add in the flours and salt and work it with the dough hook. Let it knead until it starts to separate from the bowl. Then cover it with the tea towel and let it rise. The dough has to be folded after 15, 30, 45, 60 and 120 minutes. Use a plastic scraper and pull the outside edge of the dough up and fold it towards the center. Rotate the bowl until you have finished one round. After the last folding, the dough has to rest for another 60 minutes. This means a total of 3 hours to rise, before you can start to form your loaf.
Then you dust the counter top with some flour and take the dough out of the bowl. Roughly shape it into a round loaf, cover and let it rest for 15 minutes. Next, you shape it into a smooth, round ball. Put your tea towel in a bowl, flour it and put the dough ball inside. Cover and let it rest for another 50 minutes. In the meantime, preheat your oven and the pot to 230°C.
After the final rest, get the hot pot out of the oven and transfer the loaf to it. The smooth side should be pointing upwards now. Cut it twice using a sharp knife or a razor blade to form a cross. Put the lid on the pot and transfer it to the oven. Now, let it bake for 30 minutes and remove the lid. Then you let it bake for another 10 to 15 minutes until it is golden brown. Next, you remove the pot from the oven and turn it upside down. Let the bread cool on a rack for a crispy crust.
Have fun!
XOXO, Stef