Hello lovelies!
I was craving dumplings again and as I still had some old rolls at home, I decided to make some vegan serviette dumplings. According to the philosophy of zero waste, I simply swapped the aluminum foil for a tea towel. This worked out great! Instead of using store bought vegan cream, I used homemade cashew cream which tastes way better. This recipe is a great way to use leftover rolls or white bread. It is easy to prepare and doesn't take hours to make. Furthermore, it tastes really great! Okay, so let's move on to the recipe 🙂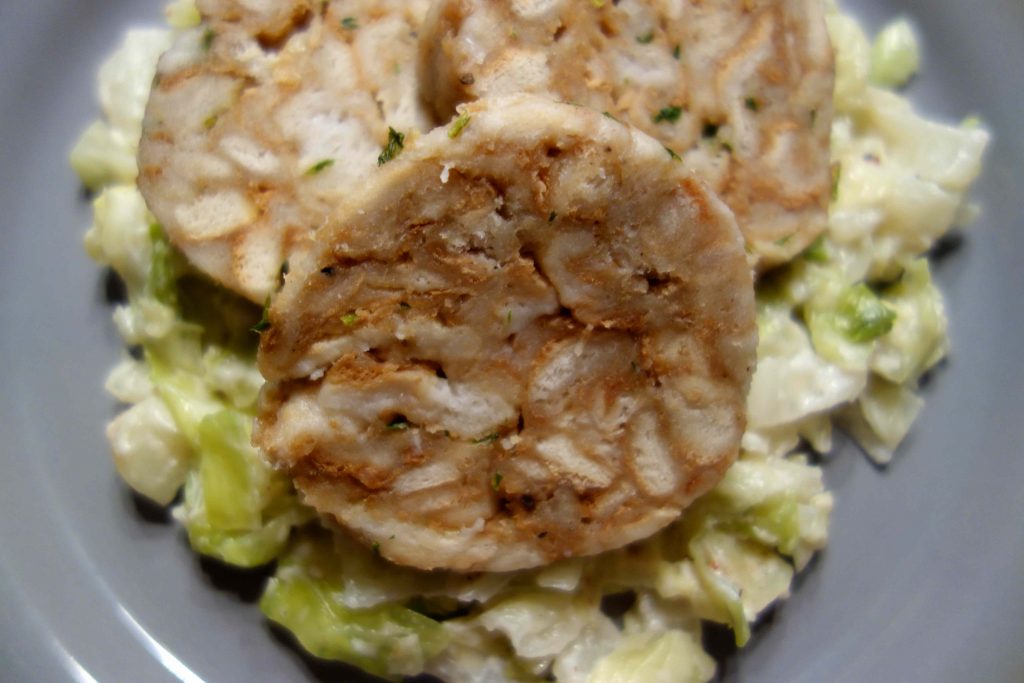 For 4 to 6 portions you need:
10 old rolls, cut into cubes and dried
400ml hot water
2-3 teaspoons locust bean gum
1 onion
fresh parsley
1 pointed cabbage
100g cashews + 200ml water
salt, pepper, nutmeg
Preparation:
First, you have to soak the cashews in water. The longer they soak, the easier it gets to make a nice cashew cream. If you have little time, soak them in hot water. Next you put your bread cubes in a big bowl and pour the hot water over them. Cover the bowl with a plate, shake it and let the bread cubes soak for half an hour.
In the meantime, peel the onion and finely dice it. Then you wash the parsley and chop it. Next pour a bit of oil in a pan and fry them until the onion becomes transparent. Now let it cool and pour it in the bowl with the soaked bread cubes. Add in salt, pepper and two to three teaspoons of locust bean gum and mix it with your hands.
Then you form it into a long roll and let it rest for a few minutes. Now dampen a clean tea towel and wrap the roll in it. Don't roll it too tight as the serviette dumplings will extend a bit during cooking. Now take the ends of the kitchen towel and tie them up with some twine. Put the roll into simmering water and let it cook for 30 minutes.
In the meantime you can prepare the pointed cabbage. Peel off the outer leaves, cut it in half and remove the stalk. Rgen you quarter and finely slice the cabbage. Fry it in a big pan with a bit of oil. Salt it and pour in a little bit of water. Then put a lid on top and let it cook for a while.
Now you can make the cashew cream. Therefore, drain the soaked cashews and put them in a blender with 200 milliliters of water. Blend them until the liquid develops a creamy texture. Now pour it into the pan with the pointed cabbage, stir and season to taste with salt, pepper and some nutmeg.
Then you take out the serviette dumplings and unwrap them. Let them set for a minute and slice them. If you want, you can also fry them or just use them the way they are. Now arrange them on your plate on a bed of creamy pointed cabbage and enjoy.
Have fun!
XOXO, Stef