Hello lovelies!
Just as promised, here is what I cooked using my broad beans- a super delicious green veggie pasta. I absolutely enjoy cooking seasonal and regional. It just tastes so much better and- bonus- it's also cheaper. So, I defenitely love it, especially when all the veggies come from my own garden- which was the case here. My peas are at their end now, but the broad beans just start to ripen and the zucchini still have a long growing period ahead. By the way, on saturday I'm going to give you a tour of my garden- right here on the blog!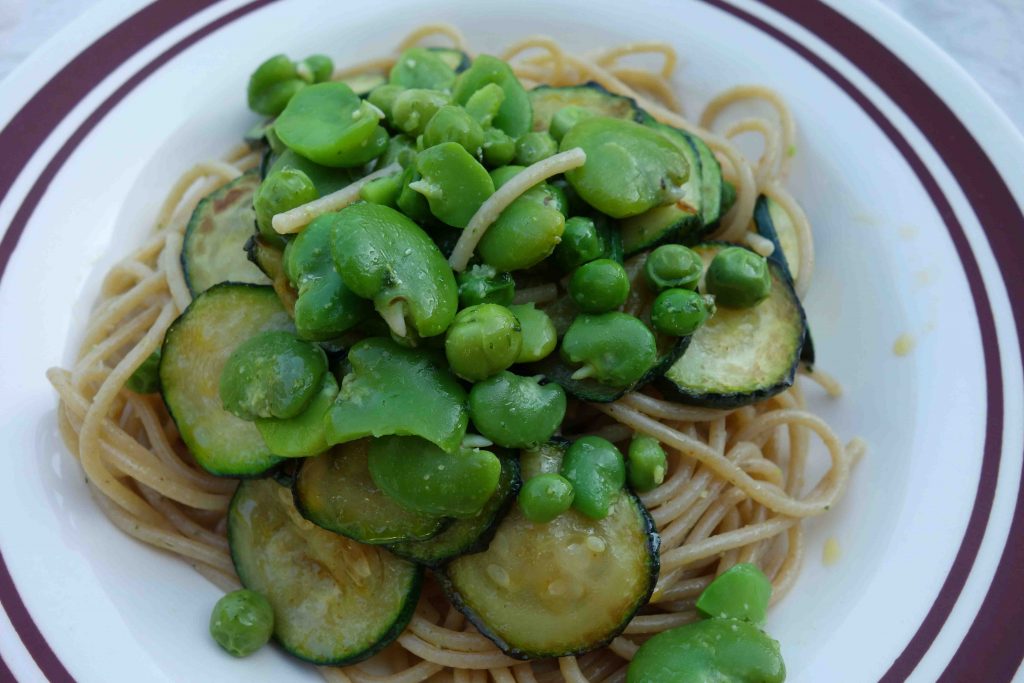 For 2 portions you need:

200g wholemeal spaghetti
wild garlic pesto
1 zucchini
500g broad bean pods
300g pea pods
salt, hot paprika
oil for frying
Preparation:
First you have to peel the broad beans and the peas. Then you put the broad beans in boiling salted water and blanch them for about four minutes. Now take them out of the hot water and remove their skins. That way you get the best part of the broad beans. Their inside is soft and super tasty. In the meantime you can cook the peas in salted water as well. They need approximately ten to twelve minutes. When you're done, evenly slice the zucchini using a mandoline.
Then you bring the water for your pasta to a boil and add salt and the spaghetti to the pot. Cook your pasta until al dente- my wholemeal spaghetti take about eight minutes for that. In the meantime heat some oil in a pan and fry the zucchini slices. Season to taste with salt and hot paprika. Then add the broad beans and peas to the pan. Drain the pasta and mix with the pesto before you serve your spaghetti topped with the veggies. Now you can enjoy your green veggie pasta.
Have fun!
XOXO, Stef