Hello lovelies!
I'm stuck with Jamie Oliver's gorgeous cookbook. Of course, I don't copy his recipes one to one, but it's a great inspiration. A casserole made in the oven is such a blast! The beef gets super tender and you'll never have to worry about burning it. Furthermore, you can get like a hundred things done, while the casserole is standing in the oven. I love that, because I'm totally into multitasking 😉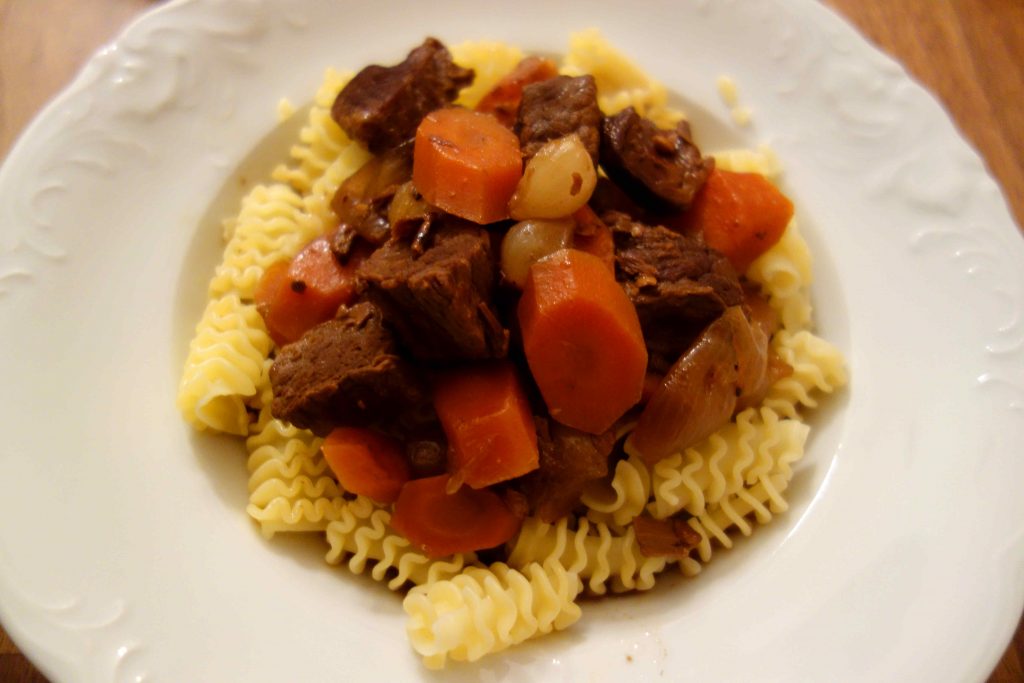 For 4 portions you need:
500g beef silverside
1 onion
1 glas of pickled pearl onions
3 big carrots
a few sprigs of thyme
250ml alcohol-free malt beer
500ml vegetable stock
olive oil
salt, pepper
400g dry pasta
Preparation:
At first, you preheat your oven to 180°C and take the beef out of the fridge, so it has room temperature, when you fry it. In the meantime you prepare the veggies. Let's start with the onion. Peel it and dice it roughly. Then you drain the pickled pearl onions and set them aside. Next, you peel the carrots and cut them diagonally into thick slices. Last, you cut the beef into bite-sized cubes and then we can get started with our casserole!
As I don't have a casserole which works on my stove top, I'm using a pan to fry everything and then just put it in the casserole. Of course, you can skip that step, if you have a casserole which works for both. Take you casserole (or pan) and heat a generous amount of olive oil in it. Now you take the beef as it is and sear it. Then you put it on a plate and let it rest. Next you fry the onions until they start to brown. Stir in the carrot slices and pearl onions. Let them roast for a few minutes  and then put the beef and its juices back in your casserole. Next, you fill it up with 250ml of alcohol-free malt beer and approximately 500ml of vegetable stock. Everything you should be completely covered.
Cover the casserole with a lid and put it in the oven for an hour. After that time, you can remove the lid and let it sit in the oven for another hour. When the casserole is done, you take it out, season to taste with salt and pepper and put the lid back on. Let it rest and cook the pasta in the meantime. By the way, never rinse your pasta with cold water! It can soak up more liquid, if you skip that step. Now you can serve your delicious beef casserole. As you can see, it takes a lot of time for braising, but it isn't that much work.
Have fun!
XOXO, Stef