Hello lovelies!
Today, I have a quick and easy dish for everyday life for you, 'cause you can never have enough of these recipes. This wild rice and veggie soup needs 30 minutes to get to your table and it tastes sooo good. Furthermore it is perfect to clean out the fridge or freezer. If you have some leftover rice, this dish will only take 15 minutes to prepare. You can use whatever veggies you like. That way you can cook this dish really often and it will always taste different. My version has carrots, leek and Borlotti beans, but just take a look at the recipe.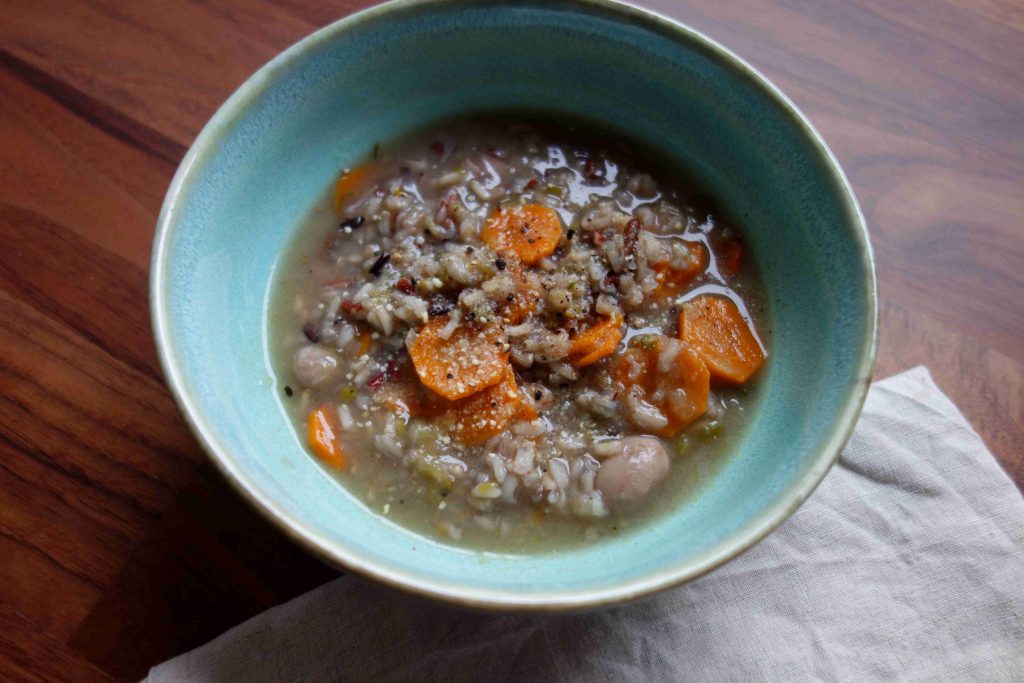 For 2 portions you need:
125g wild rice
1 onion and 1 clove of garlic
2 carrots
1 leek
100g Borlotti beans (cooked)
1l veggie stock
2 branches thyme
1 bay leaf
salt, pepper
canola oil
vegan Parmesan
Preparation:
First, you cook the wild rice with twice as much water and a teaspoon of salt. Then you peel the onion, garlic and carrots. Next you wash the leek and finely chop up all the vegetables. Now add some canola oil to a big pot and fry the chopped up veggies on medium-high heat. As soon as there are some brown residues at the bottom of the pot, add some vegetable stock and bring to a boil. Now add in the rest of the stock as well as fresh thyme and the bay leaf and let it simmer.
When the rice is nearly done, add it to your soup with all its remaining water and add the beans as well. Let it all boil until the rice is done. Of course you could always cook the rice in the veggie stock right away, but I don't want the vegetables to become too soft. Now season to taste with some salt and pepper, remove the bay leaf and the sprigs of thyme and you're ready to eat. I like to serve the wild rice and veggie soup in bowls topped with some freshly ground pepper and a sprinkle of vegan Parmesan.
Have fun!
XOXO, Stef