Hello lovelies!
I was so amazed by the rolls I made using the salt-yeast-method that I definitely wanted to do a wholemeal version of them. Said and done! Last weekend I finally had the time to work on a new recipe and they came out great. As wholemeal rolls often tend to be a bit dry, I incorporated a water roux. Furthermore, I didn't cut them this time, but sprinkled some seeds on top instead. Those rolls are better than everything you get at a bakery 😉 Unfortunately, I can't do more than eight at a time, because my KitchenAid can't work more dough…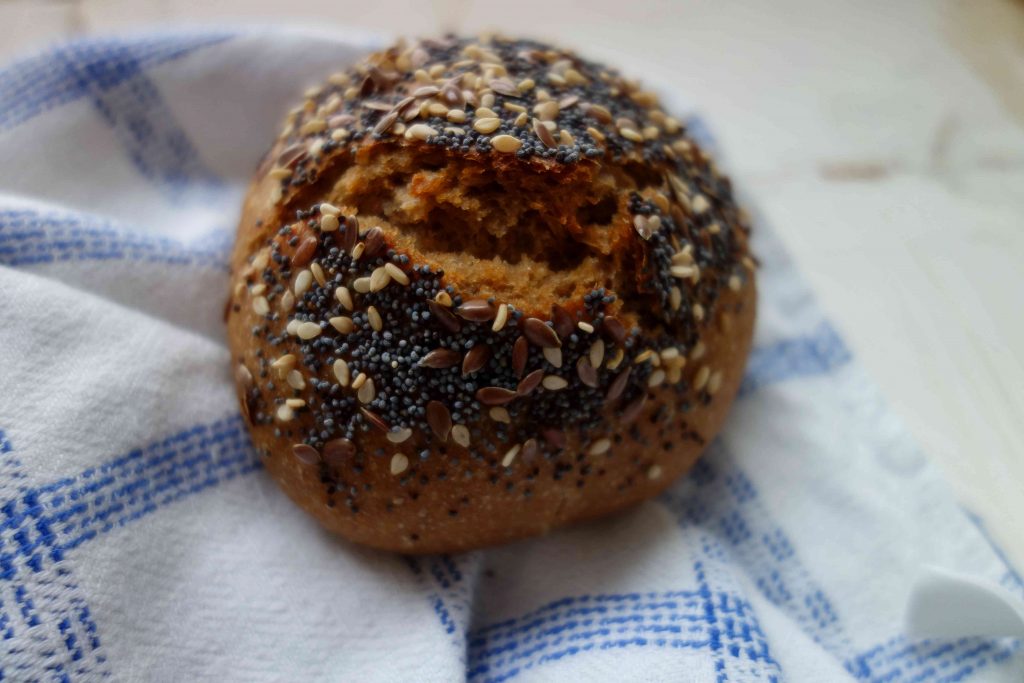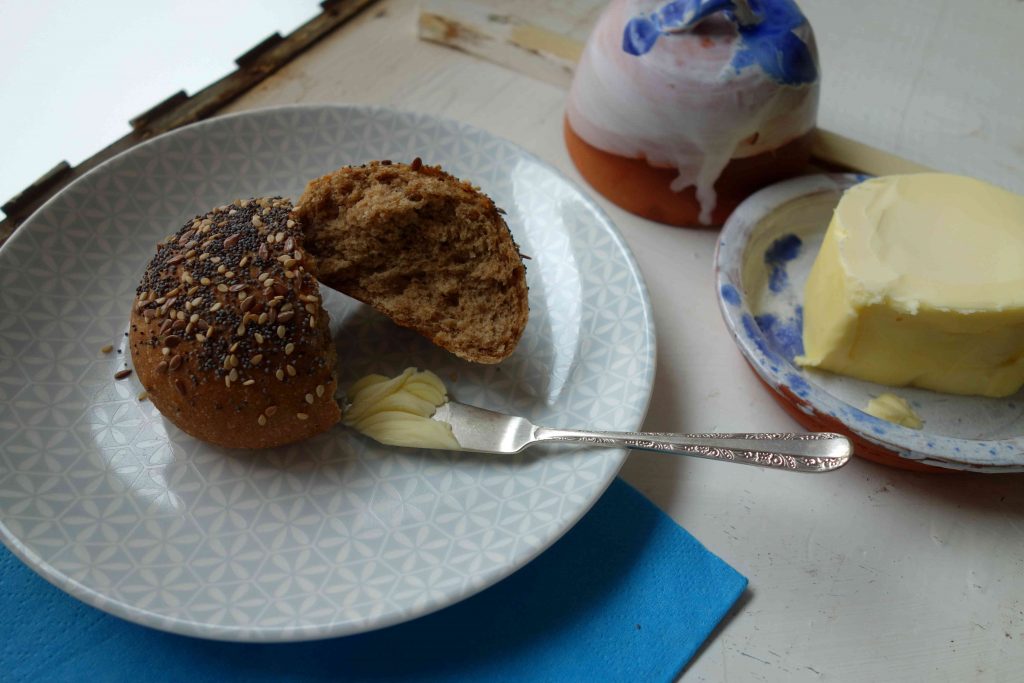 For 8 rolls you need:
salt-yeast-solution
10g salt
100g water
10g yeast
water roux

50g whole spelt flour
250g water
Hauptteig
salt-yeast-solution
water roux
450g whole spelt flour
20g barley malt
10g margarine
50g water
poppyseed, sesame and linseed for sprinkling
Preparation:
First, you have to prepare the salt-yeast solution. Therefore you dissolve the salt in the water. When it has completely dissolved, you stir in the yeast. I did that in a small jam jar. Then you just put on the lid and let it stand in the fridge for 4 to 48 hours.
For the water roux you stir the flour and the water together with a whisk. Keep constantly stirring and bring it to a boil. After a few minutes the flour will start to swell. From that point on, you take it from the heat and continue stirring until the mixture stops to thicken. Put a lid on the pot and transfer it to the fridge for 4 to 48 hours.
For the main dough put the whole spelt flour, barley malt and margarine in the bowl of your stand mixer. Then pour the water roux and the salt-yeast-solution. Work it with the dough hook until a smooth dough forms and add in up to 50ml of water according to needs. Now let the dough knead for 8 minutes on speed level 1 and for another 6 minutes on level 2. It should become nice and smooth and separate from the bowl. Next, you cover it with a canvas and let it sit in the fridge overnight.
The next morning you preheat your oven and a bowl for steaming to 220°C. Use the hydro baking mode, if your oven has it. Then you take your dough out of the fridge and divide it into 8 pieces. Next you lightly flour your work surface and form the pieces into round rolls. Transfer them to a baking tray lined with some parchment paper, cover with the canvas and let sit for at least 30 minutes.
After that you brush your rolls with water and sprinkle a mixture of poppyseed, sesame and linseed on top. Next you put them in the oven and pour boiling water into the preheated bowl. Bake the rolls for 10 minutes with steam and then open the door of your oven for approximately 20 seconds to let the steam come out. Then you bake them for another 10 minutes until they are golden brown and crispy. Take them out of the oven and let them cool for a few minutes, before you enjoy them for breakfast.
Have fun!
XOXO, Stef