Hello lovelies!
Last week I showed you how to make my homemade plant milks. I mentioned that the leftovers you get from making soy milk can be used to make veggie patties. These leftovers are called okara. Of course, I wanted to show you, what I made with the last batch of okara that I had. Those burgers were truly delicious. Unfortunately, it's hardly possible to find any burger buns without packaging around here and I had no time to bake them myself. So I just went to a bakery and bought some fluffy rolls. That's not exactly the same, but it worked 😉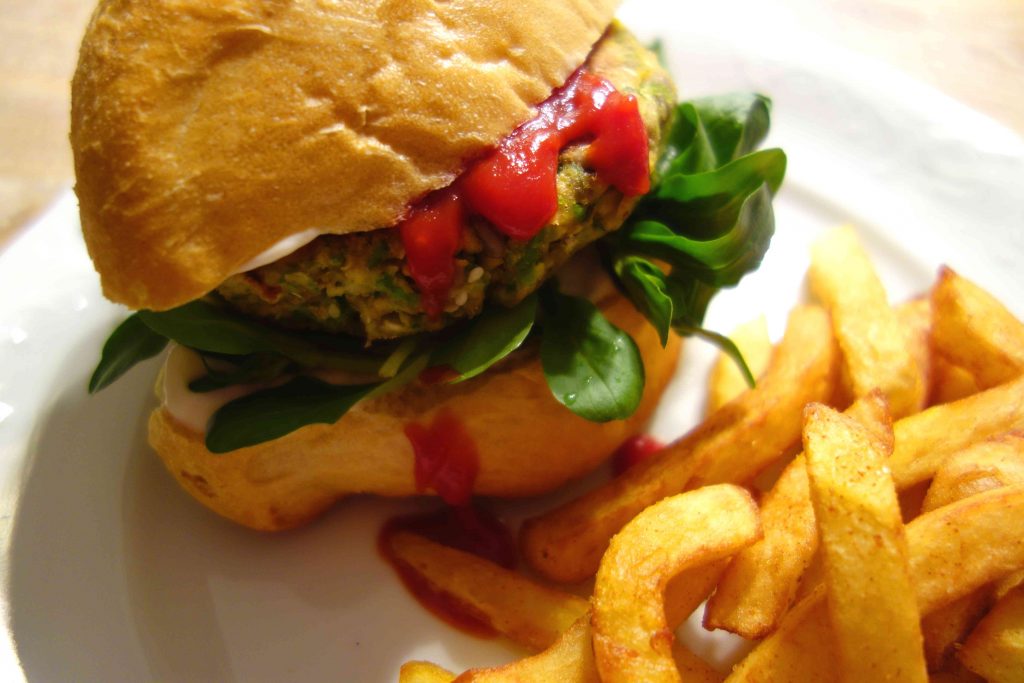 For 4 burgers you need:
200g frozen sweetcorn
200g frozen peas
okara from making soy milk
75g white spelt flour
1 pinch cumin
1 tsp. cayenne pepper
some fresh coriander
1 tbsp. sesame
1 tbsp. sunflower seeds
salad of your choice
ketchup and mayo
4 burger buns or rolls
olive oil for frying
800g potatoes
oil for deep-frying
Preparation:
First you pour the peas and sweetcorn in a sieve and let them defrost for around 15 minutes. If you have frozen okara, let it defrost, too. Then pour the veggies in a food processor and blitz them to a chunky paste. Now, add the spelt flour, cumin, cayenne pepper and fresh coriander and blitz until combined. Next you pour in one tablespoon of sesame and one of sunflower seeds and pulse until combined. Form your mass into four patties and put them in the fridge to firm up.
In the meantime you can make your own fries! Just peel the potatoes and cut them into equal sized fries. I use my Nicer Dicer to do that. Next, you bring a big pot of water to a boil and add two tablespoons of white vinegar to it. Cook your fries for 10 minutes. Drain them and let them dry for 5 minutes on a kitchen towel. Then you deep-fry them once and let them cool down. I always do a big batch of fries and freeze them in boxes for later. After that you can put them in the oven or an airfryer or you just deep-fry them again 😉
I tend to put my fries in an airfryer and in the meantime I can prepare the burgers. Therefore, pour a generous amount of olive oil in a wide pan and fry the patties at medium-high heat. They are meant to be crisp on the outside and soft on the inside. I actually turn them three times to prevent burning. Now toast your burger buns or rolls and wash the salad. Next, you spread some mayo on both halves of the buns. Take the bottom half and put some salad  on it. Then stack the veggie pattie, ketchup, upper half of the bun and your done! Season your fries with some salt and you're ready to serve dinner.
Have fun!
XOXO, Stef