Hello lovelies!
Generally speaking, pasta is pure soulfood to me and this pea pesto is just incredibly delicious. This dish makes it possible to eat healthy and have soulfood at the same time. On the one hand, it's like a salad, but on the other hand, it's just your good old friend pasta. Doesn't that sound kind of tempting? If yes, he were go! In just 20 minutes you will have this delicious dish ready on the table 🙂 Oh, and if you love green food as much as I do, have a look at my version of the Green Goddess Sandwich!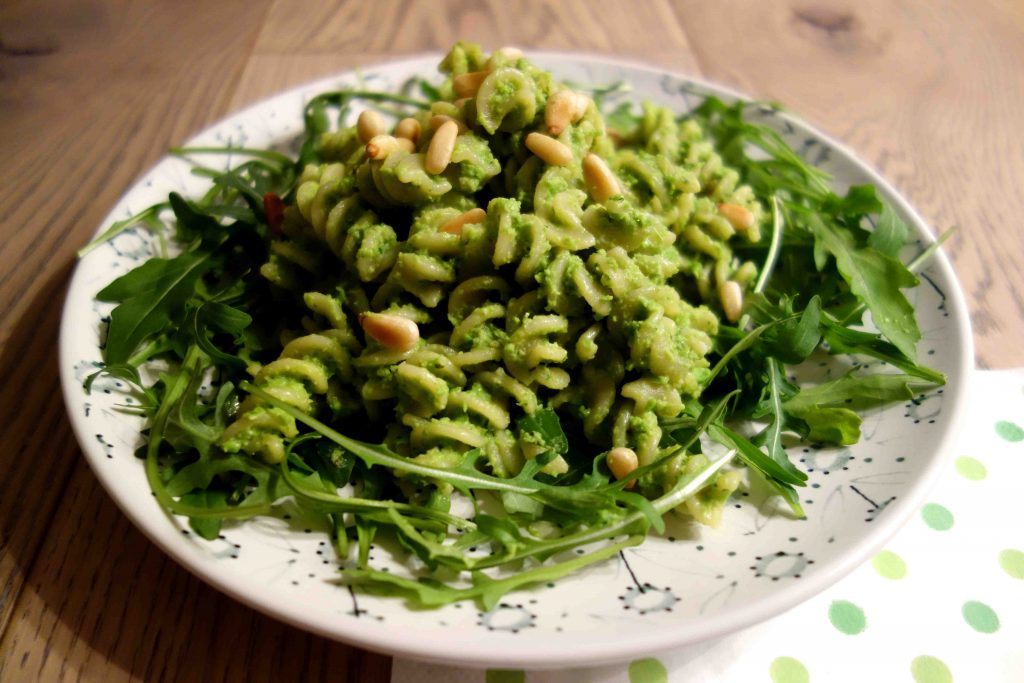 For 4 portions you need:
40g cashew nuts
1 teaspoon salt
2 tablespoons yeast flakes
150g peas (fresh or defrostet)
150g arugula
50g pine nuts
1 teaspoon dry basil
60ml olive oil
500g fusili
Preparation:
At first, you wash and dry the arugula. Then you have to roast the pine nuts in a pan without oil until they are golden and start to be fragrant. Now we can start to do the pesto. Therefore you put the cashew nuts, salt and yeast flakes in a blender and blend until it looks like Parmesan, because that's what it's supposed to be. The vegan Parmesan goes completely into your pesto. So, if you want some extra Parmesan to sprinkle, just double the ingredients and put half of it aside before going on.
Now toss in the peas, two handful of arugula and a teaspoon of dry basil and blend it. If you have fresh basil on hand, you can use it as well, but you will definitely need more than just a teaspoon 😉 Next, around 40 grams of your roasted pine nuts go in. Then put your blender on medium speed and slowly pour the olive oil. Go on mixing until everything is well incorporated and your pesto has a shiny and creamy texture.
Now you can cook your pasta in a large pot of salted water according to instructions. Drain it and save the cooking water. Then you put the pasta back in the pot and mix it with your pesto. If it's to thick just add in a bit of the cooking water until you reach the preferred consistency. Before serving, you put a handful of arugula on each plate, create a bed with it and place the pasta in the middle. To top it of, just sprinkle it with the leftover pine nuts and some extra parmesan.
Have fun!
XOXO, Stef