Hello lovelies!
I know that it's quite warm around here at the moment, but I can't go wrong with a nice stew at my house. This one is extremely delicious. It's made with homemade veggie stock. Furthermore all the ingredients are seasonal and regional and I added in some fresh herbs from my garden. So, all in all it makes a great dinner, with lots of taste and no trash at all- what more could I ask for? Just give it a try- these veggies are even in season during wintertime 😉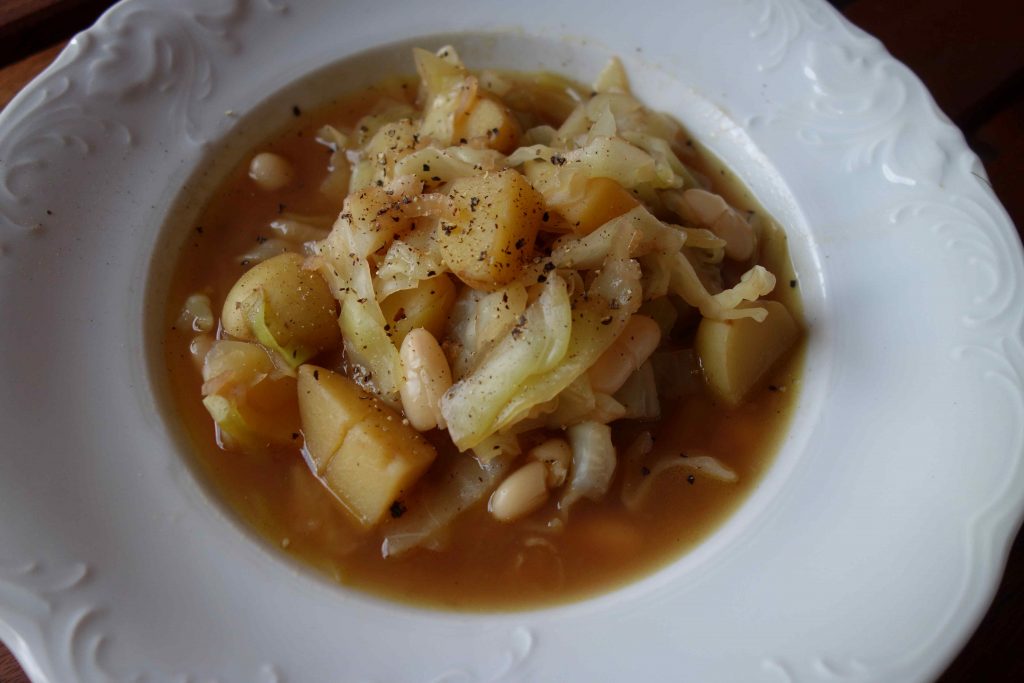 For 3-4 portions you need:
650ml homemade veggie stock
200g new potatoes
1/2 pointed cabbage
1 glass white beans
2-3 shallots
2 cloves garlic
3 sprigs savory
4 sprigs thyme
freshly ground pepper
oil for frying
Preparation:
First you peel and finely dice the shallots and garlic. Now you pour some oil in a big pot and fry them until translucent. Pour in the veggie stock and bring it to a boil. In the meantime you can wash the new potatoes and cut them into bite-sized pieces. Add the potatoes, savory and thyme to the pot with the boiling veggie stock and let them cook until the potatoes are nearly done.
Meanwhile wash the pointed cabbage, remove the stem and finely slice it. When the potatoes are nearly done, add the cabbage and beans to the pot as well. You don't need to drain the beans, but of course you can if you like to. Keep the stew boiling until everything is done and season to taste with some freshly ground pepper to finish it off. You can serve it with some toasted sourdough bread and a glass of white wine also fits this dish very well 😉
Some quick advice on homemade veggie stock: I always collect the peels, stems and rests of my carrots, onions, leeks and parsley in a box in the freezer. When the box is full, I make a big batch of veggie stock. Therefor, I add a bit of celery, some peppercorns, two bay leaves, salt and water to cover everything. When the veggie stock is ready, I bring it to a boil and fill it in bottles which I use up over the next few weeks. That way you get a super cheap veggie stock and prevent food waste.
Have fun!
XOXO, Stef