Hello lovelies!
At first, I want to wish you all a happy new year. It's my blog's second birthday today. Blogging is still a lot of fun to me, even though I had to take a few breaks last year. There was just too much stuff going on 😉 As my eating habits evolved and I'm more into vegan and seasonal food now, I bring you the recipe for my winter lentil curry today. It's my absolute favorite dish at the moment- thanks to some freshly harvested kale from the raised garden bed on my terrace and some home canned diced tomatoes I made in summer 🙂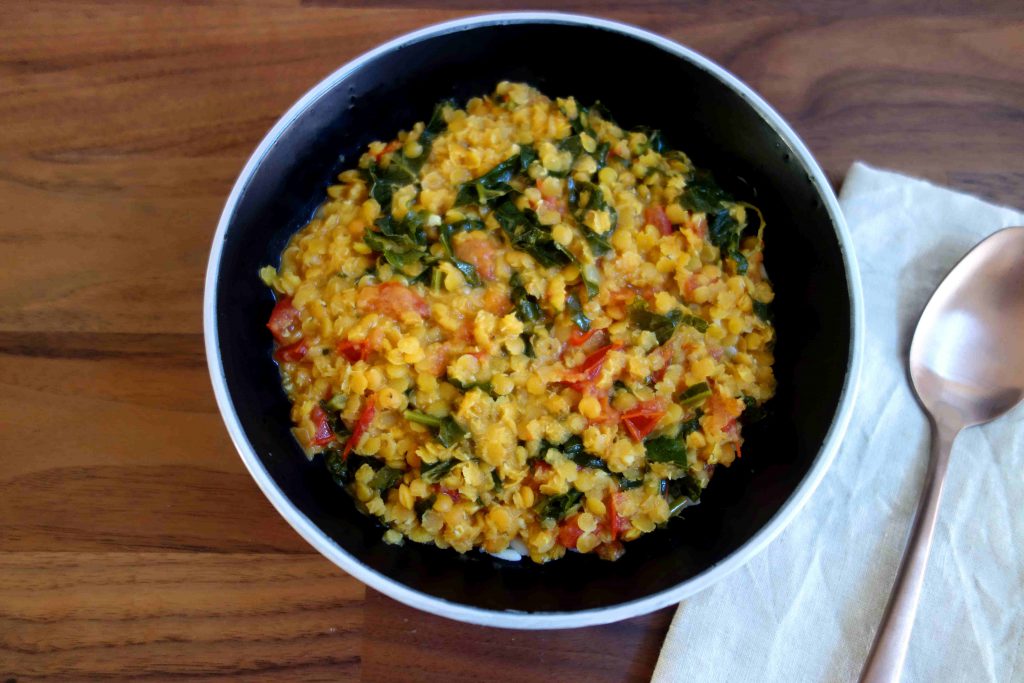 For 4 portions you need:
1 onion
ginger
1 peperoni
1 clove garlic
200g red lentils
1 can diced tomatoes
1 can coconut milk
250ml water
1 handful kale
curry, salt
coconut oil
Preparation:
First you peel the onion, a piece of ginger and a clove of garlic. Next you dice them and finely slice the peperoni. Now add one tablespoon of coconut oil to a pan and fry your ingredients, until the onion becomes translucent. Then you add in the lentils and a tablespoon of curry and fry until fragrant. Now pour in a can of diced tomatoes, a can of coconut milk and 250ml of water. Bring everything to a boil while constantly stirring and then let it simmer for around 15 minutes. Give it a stir every now and then to prevent from burning.
In the meantime you can wash and slice the kale. I like to remove the stems, because they often taste bitter, but that's totally up to you. Then you finely slice the leaves. When the lentils are nearly done, season the curry to taste with some salt and add the kale on top. Now put a lid on your pan and let the kale wilt for a minute, befor stirring it in. And then you are already done. Serve the lentil curry with rice or naan and enjoy.
Have fun!
XOXO, Stef