Hello lovelies!
It's already been a month since my last garden tour and actually it has changed quite a bit since last time. A few of my plant babies have already moved in the garden and of course I want to show you the nursery my home is at the moment. So, we will begin in the allotment and move on to the terrace until we finally reach our flat 😉

On the left side of the picture, you can see my peas and on the right side, there is a mixed crop of broad beans and sugar snaps. When the plants are a bit bigger, I will mulch this bed, too.

I grow a mixed crop of different onions and carrots in the bed next to it. The plants are still quite small and unfortunately not all of the seeds have germinated. So I decided to sow again and hope to fill up the free space.

In the two beds in front, spinach and radishes are growing. Some are a bit damaged by slugs, but they still taste great. In two weeks, the summer veggies will be moved to these beds. I'm still not quite sure whether to harvest everything first or to plant them in-between the lines. I'll probably decide that spontaneously.

My raised garden bed is this years kale bed. The plants are growing nicely under my new netting. I planted homegrown red and pointed cabbage, broccoli and kohlrabi. Furthermore, I planted different lettuces and a few watermelon radishes in-between to fill up the empty spaces. Those will be harvested before the kale plants need the space.

My strawberries and wild strawberries are blooming like crazy at the moment. This makes me hope for a good harvest in early summer. Anyway, they do look gorgeous 🙂

The currants and even my new gooseberry are full of fruits, which now only need to ripen. I can't wait to harvest the first berries!

The rhubarb has grown quite big by now and it was definitely time to harvest! I'm really looking forward to use it for baking this weekend.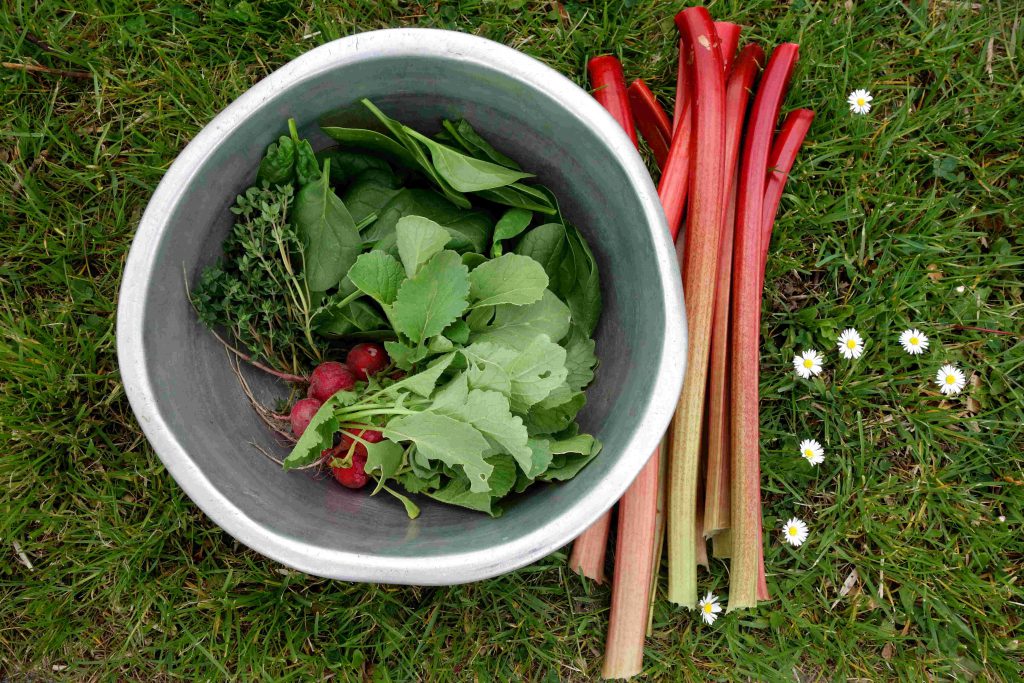 Talking about harvest- here are today's pickings! A bit of thyme, two handful of spinach, some radishes and a few stems of rhubarb. I'm so happy to have homegrown veggies on hand and can't wait to use them in my kitchen 😀

Let's move on to my terrace. There are arugula, more radishes and lettuces growing in the upper part of my raised garden bed. On the lower level, I sowed edamame and the first seedlings are already showing up 🙂

There is also a lot of stuff going on in my nursery. On the left side, you can see the warmth loving summer veggies. Those babies are standing inside under grow lights at the moment. I'm growing eggplants, chilies, bell peppers, physalis and four different varieties of tomatoes. On the right, there are coriander, two kinds of parsley, sweet corn and four different lettuces.

I also have plants standing by the window of our bedroom. On the left you can see more arugula and lots of basil. Furthermore, I have some backup kale seedlings. In the pots, there are some cucumber plants which I will give to friends. On the right side, there is another seedling tray with kohlrabi, white cabbage, more physalis and lettuces. Moreover, I'm growing leek and fennel there to use as a second crop for the garden bed with the broad beans.

Okay, so let's get to the squash family. On the left, you can see my watermelons and a store bought small cucumber variety which is good for pickles. I'm really looking forward to this one. On the right, I have two different varieties of homegrown zucchini and pumpkins and even more cucumbers. Those are already quite big and looking forward to moving to the garden soon.


I'm going to finish the post off with some flowers- just like always. I hope you liked this little tour around my garden.
See you next time!
XOXO, Stef