Hello lovelies!
The weather tells us that summer is over. It's cold and rainy here in Augsburg, but nevertheless the tomatoes in my garden are slowly ripening. Of course, I love to use them for some super simple end-of-summer-dishes. This one was made with some overripe sweetcorn, polenta and a whole lot of fresh homegrown tomatoes. It is easy, doesn't take a lot of time and it tastes like summer- sooo good. If you want to, you can also serve it with some grilled or pan-fried slices of zucchini to fight the autumn blues 😉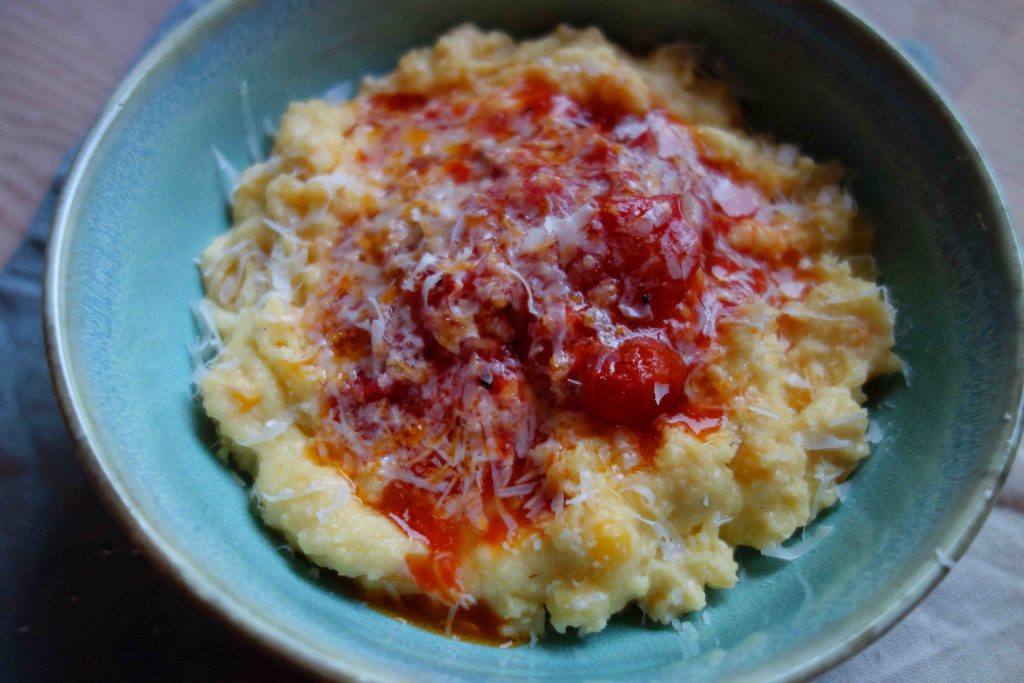 For 2 portions you need:
125g polenta
400ml water
100ml cream
1 corncob
250g mixed tomatoes
fresh thyme
salt, pepper
olive oil
50g goat cheese
Preparation:
First you peel the corncob, wash it and remove the corn from the cob. You can either cut it with a knife or just use yours fingers for that. I decided to use my fingers which worked out great, because the sweetcorn was overripe. Now pour the water in a pot and bring it to a boil. Add the sweetcorn and a teaspoon of salt. Cook it for about 10 minutes and then pour in the cream. Bring it to a boil and roughly blend it. Now you slowly add the polenta, while constantly stirring. Cook the polenta for a few minutes and then just let it soak with the lid put on.
In the meantime you can wash the tomatoes and cut them up. You don't have to be very accurate doing that. Just make chunks of different shapes and sizes. By the way, I used roma and cocktail tomatoes for the tomato ragout. When you are done chopping, pour a generous amount of olive oil in a pan and add some sprigs of fresh thyme. Now add the tomatoes as well and season with salt and pepper. Let the tomato ragout simmer for a few minutes. That way you get a chunky and super delicious tomato sauce. Now pour the creamy polenta in two bowls and spread it forming a hollow in the middle. Add the tomato ragout to this hollow and serve your dish sprinkled with some freshly grated goat cheese.
Have fun!
XOXO, Stef