Hello lovelies!
On Monday, we made some pizza and as the oven was already hot, I made some bread as well. I just prepared the dough for both one day ahead and stored it in the fridge. That way it is pretty easy to make something like baking bread and pizza fit into your everyday life. As I have gained some experience in bread baking over the last two years, I often go without a recipe. Of course, I'm always very happy, when on of my experiments turns out to be good, which was the case here. Leave me a comment on how you handle the whole bread thing. Are you still buying bread or have you already started to bake it yourself? 😉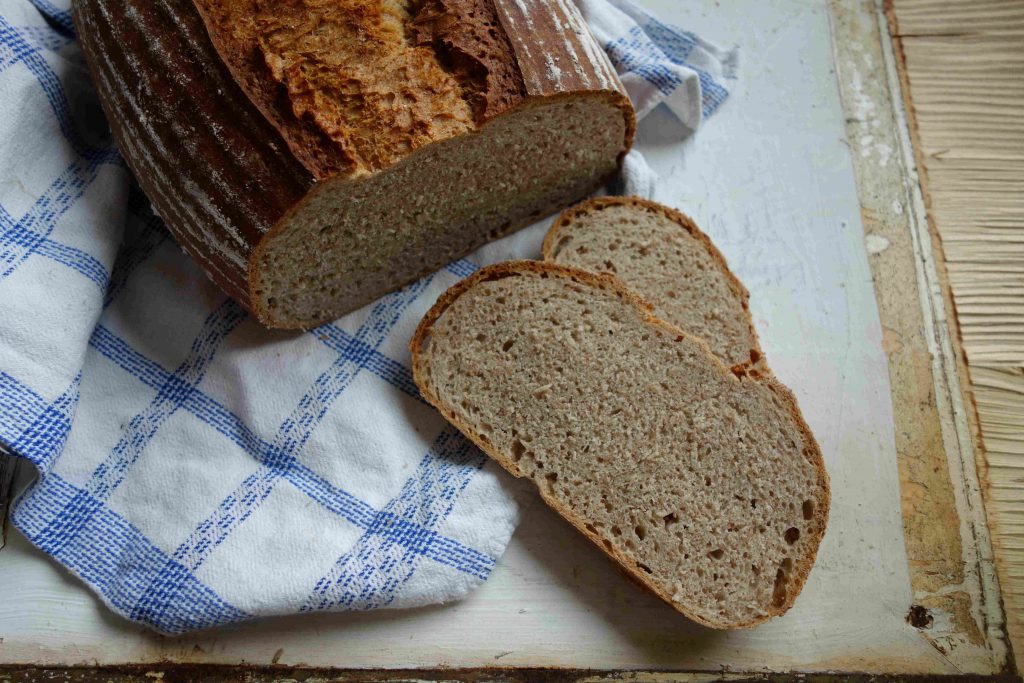 For one loaf you need:
450g whole spelt flour
350g white spelt flour
1,5 tsp. salt
4 peppercorns
0,5 tsp. each caraway and fennel seeds
500ml lukewarm water
8g fresh yeast
Preparation:
First, you add the two flours and the salt to the bowl of your stand mixer. Now pour the peppercorns, caraway and fennel seeds in a mortar and finely grind them. Then you mix this bread seasoning with the other dry ingredients. Next, you measure 500ml of lukewarm water and dissolve 8g of fresh yeast in it. Add the water-yeast-solution to the dry ingredients and work everything with a dough hook until a smooth dough forms. Therefor, it should be kneading for a few minutes.
As soon as the dough forms a ball and doesn't stick to the bowl, you can take it out and knead it by hand. Then you form it back into a ball, dust it with some flour and put it back in the bowl. Now cover it with a clean kitchen towel and put it in the fridge for 24 to 36 hours.
The next day, you take the dough out of the fridge and give it a quick knead by hand. Then you form it into an oval shaped loaf and put it in a floured fermentation basket. Now the bread is meant to rise for two to three hours depending on room temperature. It shall be clearly bigger, before you bake it. Preheat the oven, a pizza stone and the bowl for steaming to 230°C for at least 30 minutes. When the bread looks good, turn it upside down on the pizza stone and cut the surface lengthwise. Then you poor some boiling water in the bowl and bake the bread with lots of steam for 10 minutes. After that you reduce the temperature to 200°C, open the oven door for 30 seconds and bake the bread for another 25 minutes until golden brown.
Always check the bread by knocking on it, before you take it out of the oven. When it sounds hollow, it is done. Then take it out of the oven and let it cool on a rack. The rustic spelt bread lasts up to one week, if stored right.
Have fun!
XOXO, Stef