Hello lovelies!
Just as promised, I'll share the second half of the recipes for a perfect Easter brunch with you today. We really made a lot and we had a lot of leftovers, but that could also be kind of a MealPrep 😉 Today I have some delicious wild garlic muffins with a cream cheese frosting, homemade profiteroles with two different fillings and an instruction for the perfect meat and cheese platter for you. For my delicious eggs benedict, overnight oats with mango and an exotic fruit platter just click here.
wild garlic muffins with cream cheese frosting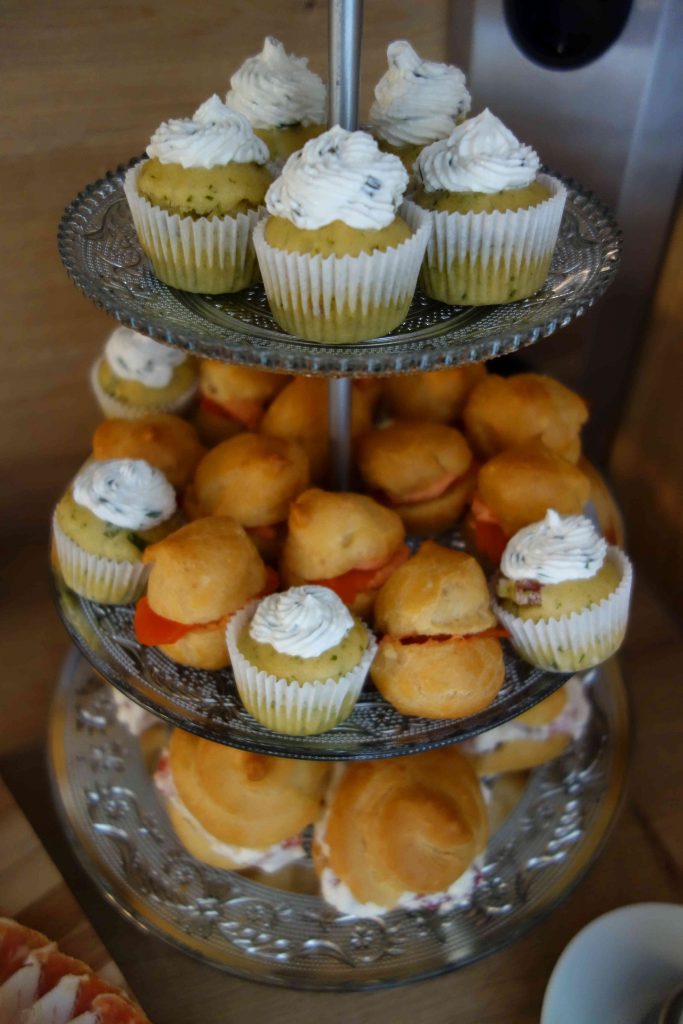 For 1 muffin pan you need

225g flour
2 TL baking powder
1 TL baking soda
2 eggs
120ml oil
120ml milk
1 tbsp wild garlic paste or a bunch of fresh wild garlic
200g cream cheese with herbs
Preparation:
First you preheat the oven to 190°C. Then you mix the flour with baking powder and baking soda in a bowl. Next you pour in the eggs, oil, milk and wild garlic. Mix until a homogeneous batter forms. Now take a (mini) muffin pan and line it with paper muffin liners. To fill in the batter use a piping bag or an ice cream scoop. Then you bake the muffins for 15 to 25 minutes according to their size. Let them cool completely and pipe the cream cheese on them. If you want to be fancy, you can add some extra wild garlic to your cream cheese 😉
homemade profiteroles with two different fillings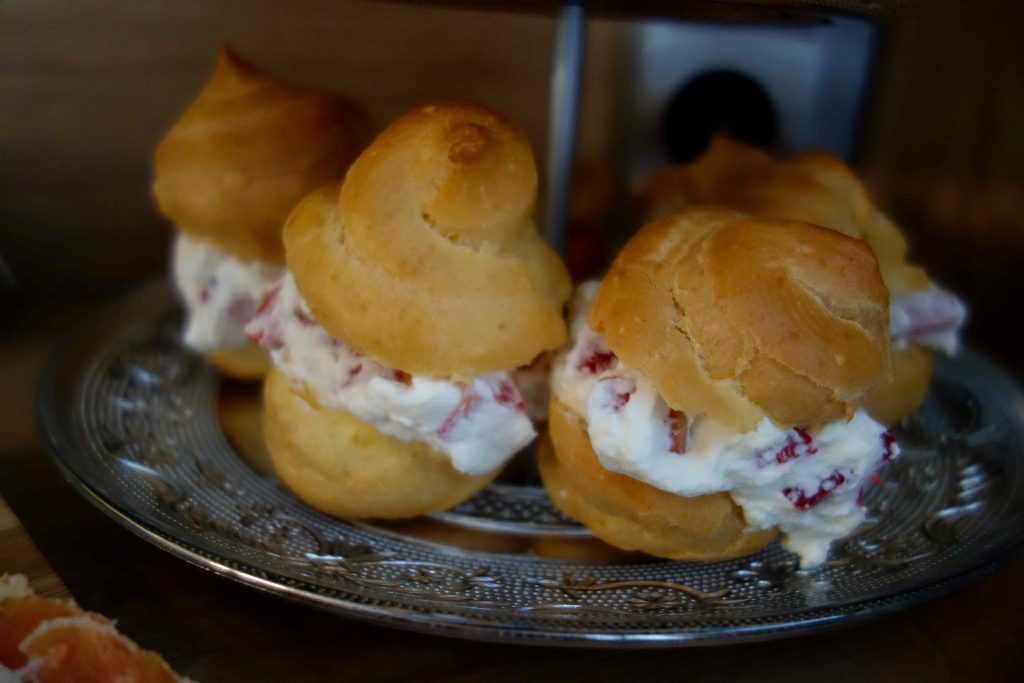 For the profiteroles you need:
250ml water
1 pinch salt
50g butter
150g flour
4 fresh eggs
Preparation:
First you pour the water and the butter with a pinch of salt in a pot. Then bring it to a boil and add in all the flour at once. Keep stirring with a wooden spoon until a dough ball forms. There will also be some white 'skin' on the bottom of the pot. Don't worry, that's normal. Next you transfer the dough to a mixing bowl and let it cool for a few minutes. Then you stir in the eggs on at a time until a smooth dough forms.
Preheat the oven to 220°C and line two baking sheets with parchment paper. Then you fill your piping bag with the dough and pipe some big profiteroles on one baking sheet. The rest of the dough will be used to pipe small profiteroles on the other baking sheet. Afterwards you bake each one on its own for 20 to 25 minutes until the profiteroles are golden brown. Never open the oven during baking! When they are finished, the profiteroles must be cut open with a pair of scissors while they are still hot. Then you put them on a rack to cool completely.
savory salmon filling:
200g cream cheese
200g smoked salmon
salt, pepper
Preparation:
First you pour the cream cheese and half of the smoked salmon in a blender. Then blend until a nice homogeneous mass forms and season to taste with salt and pepper. Cut the leftover salmon in small pieces. Next, you fill a piping bag with the salmon cream cheese creme and pipe it on the bottom of the small profiteroles. Then you add a piece of smoked salmon and the top of the profiterole. It is very important to fill the profiteroles shortly before serving, because otherwise they soak through and become squishy.
sweet strawberry cream filling:
250g cream
1 tbsp. icing sugar
fresh strawberries
Preparation:
First you wash and dry the strawberries. Then you remove the leaves and cut the strawberries in small pieces. Next, beat the cream with a tablespoon of icing sugar. When it is stiff, fold in the precut strawberries. Now you can fill the big profiteroles with your strawberry cream filling. If you have leftover profiteroles, you can easily freeze them without a filling. This is perfect for a spontaneous coffee with friends- just take them out of the freezer, make a quick fruit and cream filling and you're done!
meat and cheese platter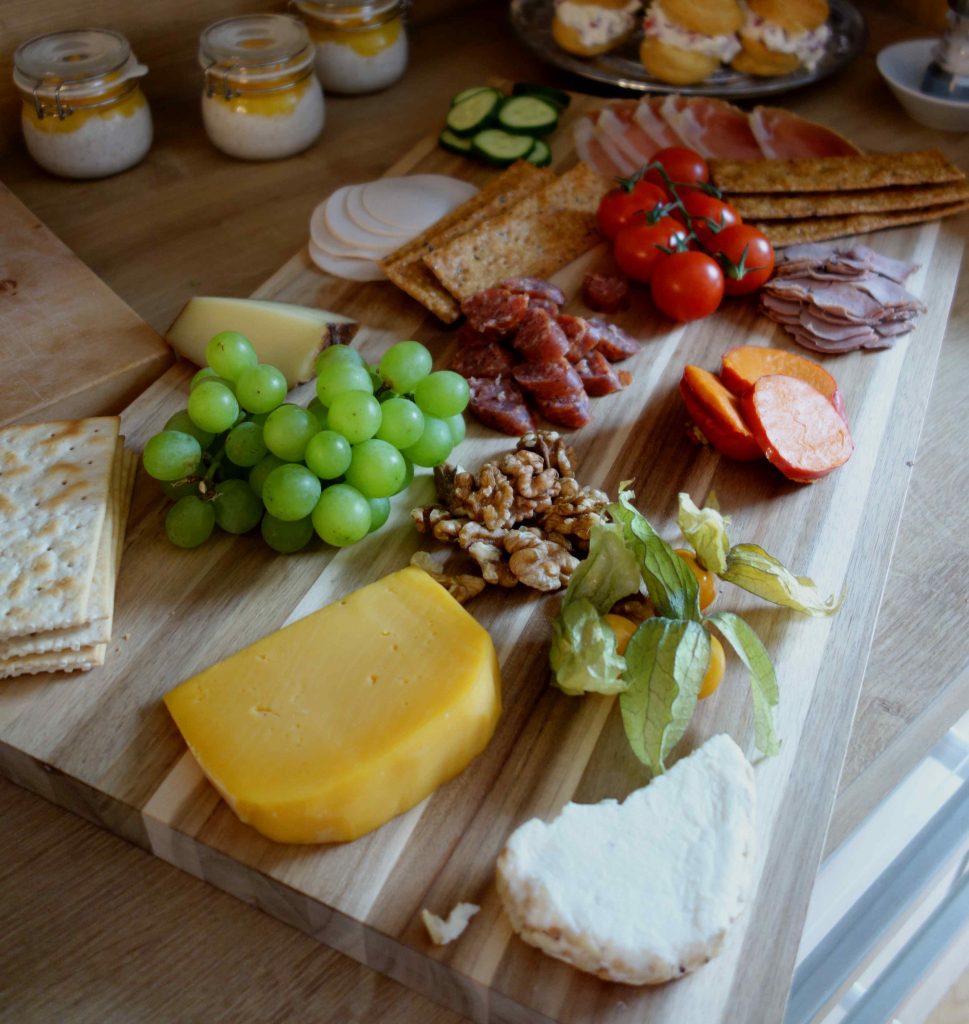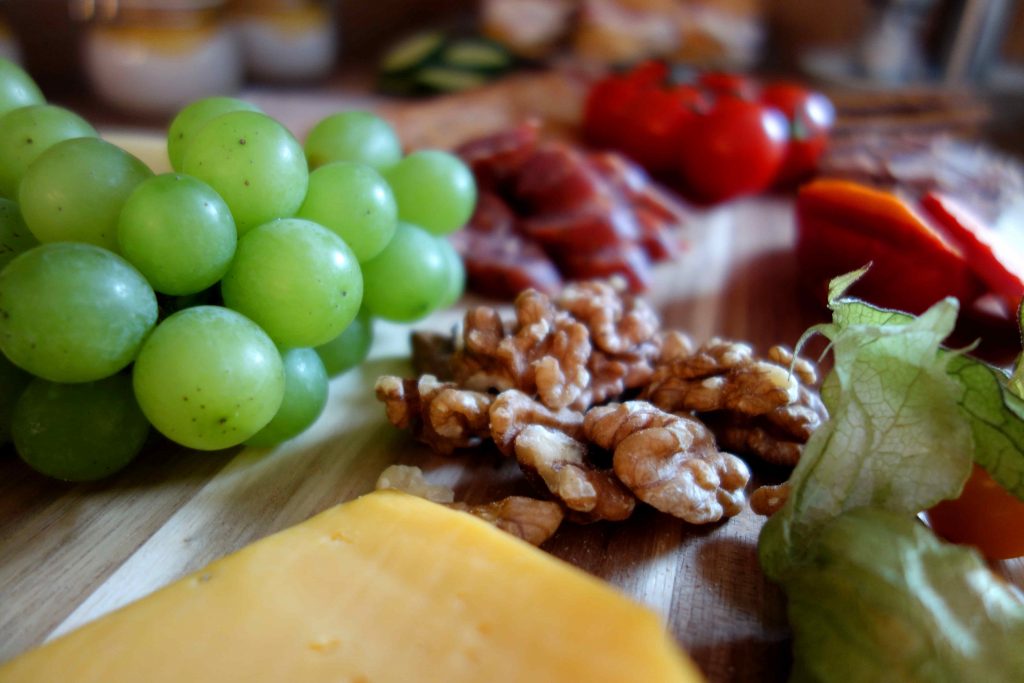 For the meat and cheese platter you need:
different sorts of meat
different sorts of cheese
crackers
crisp bread
walnuts
grapes
physalis
small tomatoes
cucumber
1 big platter
Preparation:
First you have to choose a plate. I like wood and slate. When it comes to choosing your meats and cheeses, it is all about finding different tastes and textures. We decided to use a meat paste, some spicy salami, a typical German pork and veal sausage and some dry-cured ham. For the cheeses we used a hard cheese made from goat's milk, a nice Cheddar and a Brie. When you have all of this on the plate, you can add the fruit, veggies and nuts. Together with the crackers and the crisp bread, it will make a lot of different combinations. Just be creative and put whatever you like on the platter!
That's all for today! I hope you have found some inspiration for your next brunch 😉 We were very happy with our buffet and everyone was more than sated, when they went home.
Have fun!
XOXO, Stef